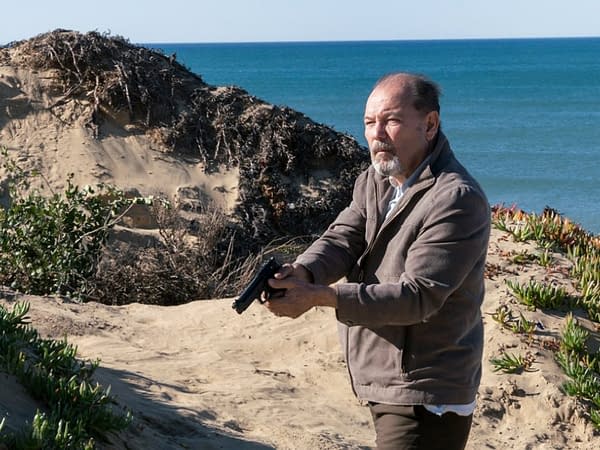 Rob Bradfield writes …
While The Walking Dead has always been a perennial Emmy Award nominee when it comes to technical nods, nominations in the higher profile categories (acting, directing, writing and outstanding series) still remain elusive. Despite a strong season six, not a lot changed in 2016 for AMC's genre juggernaut. But thanks to more Walking Dead related shows on the air — and the recent addition of categories relating to online and interactive programming — the zombie-apocalypse is finally getting a little respect.
Though technically a spin-off of Fear The Walking Dead, Fear The Walking Dead: Flight 462, a series of one-minute shorts that was originally shown during the series' inaugural season, garnered two nominations: Outstanding Short Form Comedy or Drama Series and Outstanding Actress In A Short Form Comedy or Drama Series for Michelle Ang. Both the shorts and Ang's character, Alex, were hits with fans. Ang even appeared in FTWD – sadly, only for two episodes. Alex didn't die, but she was definitely not in a good position when we last saw her. Perhaps the nod will translate into future appearances. Mexico certainly isn't working out for the crew of the Abigail.
The "mothership," or more to the point, producer Greg Nicotero's incredible visual effects team picked up nominations for Outstanding Special Effects In A Supporting Role and Outstanding Prosthetic Makeup For Series, Limited Series, Movie or Special. Super-Fan after show, Talking Dead was recognized in the Outstanding Interactive Program category, though host, Chris Hardwick, was overlooked as Outstanding Host.
And while some fans may consider the five Walking Dead nominations in lower profile categories to be a typical "snub" for genre entertainment, Game of Thrones continued its streak with twenty-three nods – and that show has zombies, too! Meanwhile, AMC's other ratings powerhouse, Better Call Saul was nominated in seven categories including Outstanding Drama and Lead Actor In A Drama Series.
Season seven AMC's The Walking Dead premieres in October. Fear The Walking Dead and Talking Dead return with new episodes in August. Fear The Walking Dead: Flight 462 can be found on amc.com. The 68th Annual Emmy Awards are on September 18th, on ABC.
Enjoyed this article? Share it!