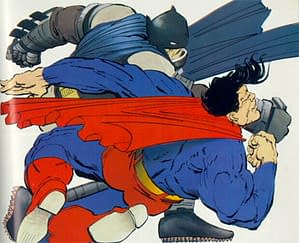 All Star Superman and Year One have made 2011 an incredible year for DC Universe Animated Movies, and it might prove tricky for 2012 to not seem like a bit of a slump.
Time to bring out the big guns, then. And, you know, some sort of normal sized guns too.
At a Warner Animation panel at Comic-Con, timed to coincide with the premiere of Year One, it was announced that the first film on next year's DC toon roster will be Justice League: Doom. This will be derived from Mark Waid's Tower of Babel story in JLA. I don't know the comics at all, and I just tried to defer to expert assistance but… erm… it didn't elicit much of a response.
So on to the second release, Superman vs. The Elite. The basis here is What's So Funny About Truth, Justice and the American Way?, Joe Kelly's infamous retort to The Authority and similar hero-baiting tales. The original comic was much feted, often by those with a political agenda, though not exclusively.
And, rounding out the announced titles is the real big dog: The Dark Knight Returns. We scooped that this was coming back in April, but today it became general public knowledge with a DC rubber stamp on.
What we didn't know until now is that Returns will be released as a two-parter. No casting was confirmed, but it was suggested that Kevin Conroy and Mark Hamill would be under consideration for Batman and the Joker. I'll believe it when I hear it.
As regards other plans, it was admitted that The Killing Joke would be a possible future title, though nothing is underway on that one right now. I translate that as "in 2013 then."
On the other hand, Kingdom Come was considered an unlikely proposition, deemed an unfit match for hand-drawn animation.
Enjoyed this article? Share it!