'Annabelle Comes Home' Final Trailer Teases New Spirits, Frights
Annabelle Comes Home, the newest entry into The Conjuring Universe of films, released a new trailer this morning, along with some fresh pics as well. This new entry looks to expand the franchise even further than they already have, as new entities are teased and will more than likely end up with their own films sooner rather than later. Check out the trailer below:
Determined to keep Annabelle from wreaking more havoc, demonologists Ed and Lorraine Warren bring the possessed doll to the locked artifacts room in their home, placing her "safely" behind sacred glass and enlisting a priest's holy blessing. But an unholy night of horror awaits as Annabelle awakens the evil spirits in the room, who all set their sights on a new target—the Warrens' ten-year-old daughter, Judy, and her friends.
Gary Dauberman, the screenwriter of the "Annabelle" films, "IT" and "The Nun," makes his directorial debut on the film, which is produced by Peter Safran ("Aquaman"), who has produced all the films in the "Conjuring" franchise, and "Conjuring" universe creator James Wan ("Aquaman").
After disliking the first Annabelle film, the second one was surprisingly great, and if Annabelle Comes Home can recapture that, it will not only breathe even more life into this franchise, but The Conjuring universe as well. Also, it is awesome to see Patrick Wilson and Vera Farmiga back in this one as well, the are both so good as the Warrens that it is easy to take them for granted. Hopefully it ends up being a little more than an extended cameo.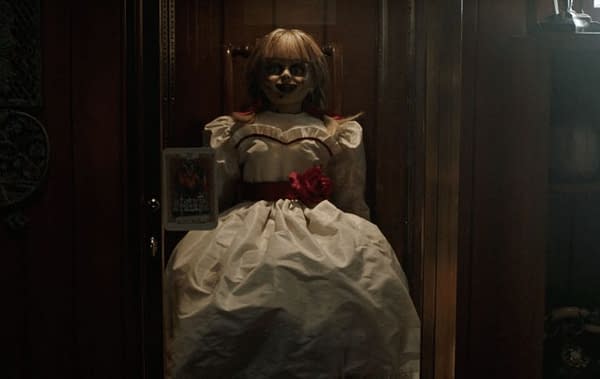 Mckenna Grace and Madison Iseman star along with the retuning Patrick Wilson and Vera Farmiga in Annabelle Comes Home, hitting theaters on June 26.