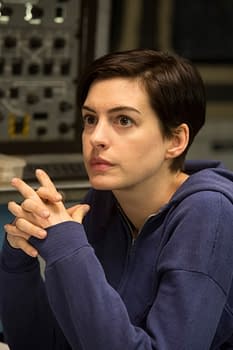 I'll admit it, during the heyday of the Anne Hathaway hate, I partook in the hyperbolic notion that she was "the worst." I don't actually hate her — that utter, inexplicable way people seemed to despise just for existing — she's just not a number one box office draw for me, but I don't mind seeing her in a movie, either.
Even when she gets stuck with the love-conquers-all message in a certain sci-fi drama.
But it seems she wants to continue to bolster her sci-fi standing as she plans to star and produce The Shower, a "female-centric sci-fi action comedy that made last year's Blacklist, the annual listing of best not-yet made screenplays in Hollywood," according to The Hollywood Reporter. The script was written by Jac Schaeffer and is said to be in the vein of This is the End, Attack the Block and Bridesmaids.
Set at a baby shower during a meteor storm, the characters soon find the meteors "turn men into blood-hungry aliens and the women must fight to not only save themselves but also the world."
Comedy is a good line for Hathaway, whose screen persona can easily become funny if pitched correctly. She proved that with The Devil Wears Prada. It just remains to be seen if she'll ever convince the haters to love her.
Enjoyed this article? Share it!