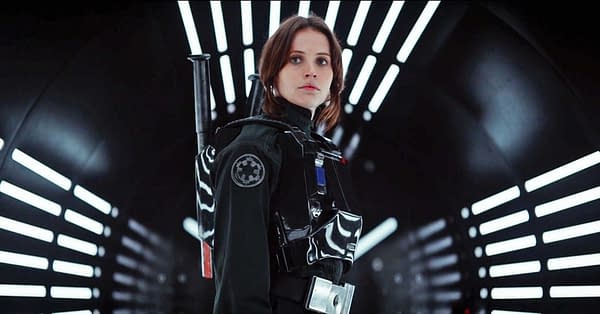 Many presumed that more Rogue One: A Star Wars Story material would appear during the upcoming Star Wars Celebration in London next week. But according to Making Star Wars, that material will take the form of a new three-minute trailer set to arrive next Friday.
The site claims they have found a WABC television listing for Secrets of The Force Awakens: A Cinematic Journey. The behind-the-scenes documentary debuted on the home video release of Star Wars: The Force Awakens back in April, but it appears it will air on ABC stations next Friday, July 15th. The listing also claims the special will air with "a 3-minute trailer for Rogue One: A Star Wars Story." The site notes the previous trailer was shorter by a minute-and-change, so this "3-minute" version could be something new or a mish-mash of previously released material. Of course, that's assuming the listing is accurate.
Star Wars Celebration takes place July 15th-17th.
Enjoyed this article? Share it!