Ant-Man and the Wasp: Quantumania is the Seinfeld Of Superhero Movies
Ant-Man And The Wasp: Quantumania is the Seinfeld of superhero movies. If you want a character arc, that's what DC is for.
---
[THIS ARTICLE CONTAINS EXTREMELY MINOR SPOILERS FOR ANT-MAN AND THE WASP: QUANTUMANIA. CHARACTER ARCS ARE DISCUSSED BUT NO DETAILS ARE REVEALED.]
Larry David famously declared that Seinfeld was "no hugging, no learning" and that characters would not go on long emotional arcs, which would be the same at the end as they began because people don't change. And while Ant-Man And The Wasp: Quantumania has a little hugging, no one learns anything. No one goes on a character arc; they are the same at the beginning as at the end. The main characters are adults and seniors even; they have been through a lot in their lives, an awful lot. Any learning they were ever going to do, they've done it.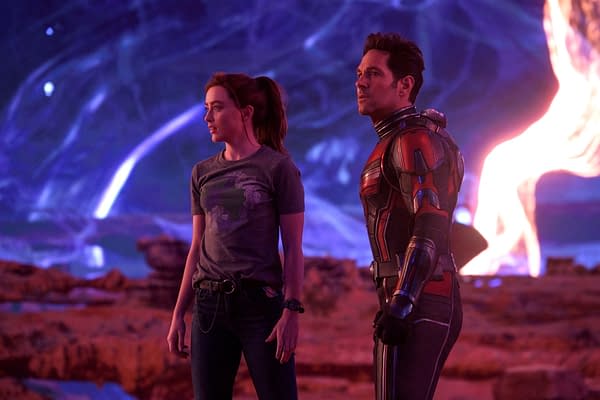 It is something demanded of movies, and especially of screenwriters going on courses about how to write movies, that the audience must be invested in a character, that they must go through some ordeal and come out the other end as a different person. Superhero stories know that's nonsense; we've had decades of characters that have refused to do any changing. And we like it that way; why the hell would we want to spend twenty years reading about a character who isn't the one we like? And when characters do stray… well, that's what reboots are for. Stories have a beginning, a middle, and an end. It's now fashionable to do away with origin stories; no one wants the story to end, so it becomes all about the middle. And Ant-Man And The Wasp: Quantumania is all about that middle. And you want that middle as big as possible on an IMAX screen.
It's absolutely highlighted in this script by Scott Lang, played by Paul Rudd, who walks down the street, interacting with those around him in a jolly celebrity fashion, only to reprise the same thing at the end with hardly a change. The information he learns may suddenly bring him to a halt and make him doubt everything, but he soon dismisses it and returns to normal. None of the characters go on any character arc at all, except for maybe Scott Lang trusting Cassie Lang a little bit more with the suit. But that's it. And I am absolutely fine with that. Scott and Hope really shouldn't be learning much at this point, and Hank and Janet should resist any change as much as possible.
No, I'm far more concerned about Scott Lang's reading from his biography in the bookstore and that he is reading the final paragraphs from the book. What psychopath reads the end of their book at their own book reading? Well, maybe the writer of the movie, screenwriter, and comic book writer Jeff Loveness does. Be warned…