Anthony Bourdain Sits Down To Dinner With Francis Ford Coppola
Chef, television personality, and author Anthony Bourdain continues to lead a fascinating life. First gaining notoriety back in the early 90s with his brilliant autobiographical tale Kitchen Confidential and subsequent tv series A Cook's Tour, he's never really gone away. Mellowing in recent years, the former occasionally foul-mouthed Travel Channel host brought his world traversing docu-style food-a-mentaries to CNN.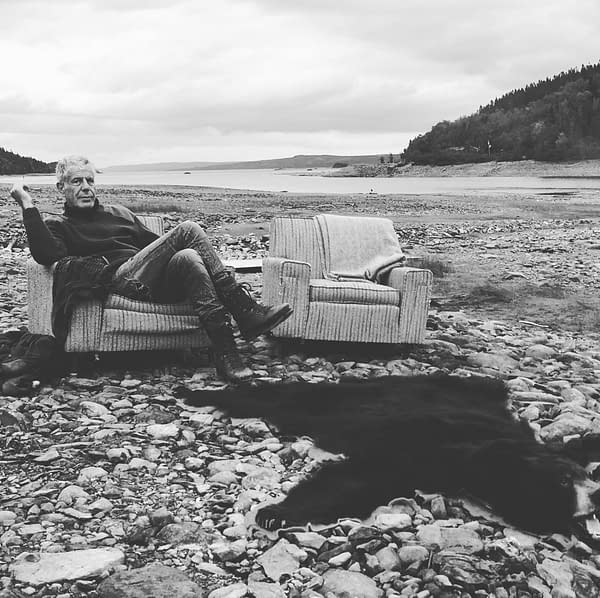 His Parts Unknown series has garnered several award nominations and wins thanks to Zero Point Zero Productions, and it continues to set the bar for chef celebrity types and their interaction in the world. Perhaps also it should be noted that Bourdain has been one of the most outspoken men on twitter in support of his girlfriend, director and actress Asia Argento during the recent Harvey Weinstein issues.
Seriously, just look who he made Thanksgiving dinner for.
Anyhow, on tonight's Southern Italy episode and season finale of Parts Unknown, Tony sits down to dinner with one of the most notable Italian American directors in a generation, Francis Ford Coppola. The pair speak about everything, including some of Coppola's illustrious film titles (The Godfather) between amazing plates of food.
Italian born Argento appears in the episode as well. This is her first appearance in the series alongside her boyfriend, and she shows him up HARD in the fishing department. If you know Tony's history with fishing segments on his various shows, no doubt you'll find tonight's episode that much more entertaining.
You can watch some of the highlights from the meal on the official Parts Unknown website here.