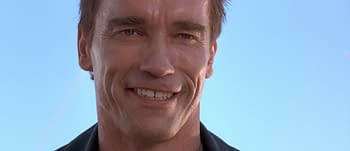 Briefly: our man Patrick Dane is down at the London junket for The Last Stand and he reports back, in short, that Arnold Schwarzenegger will be appearing in the next Terminator movie. Arnold said so himself.
The big man listed the film as being on his upcoming slate alongside Triplets and the next Conan picture.
Arnold was being linked to Terminator again back when Justin Lin was developing the next film, but we had no idea that he was involved in the current Laeta Kalogridis and Patrick Lussier version until now. I'm glad he is.
Quite what role a 'significantly older' Arnold would play in the film remains to be seen. The model for the original T-800 seems like a fairly good bet, so would some motion capture of de-ageing FX.
The Last Stand is released in the UK this Thursday.
Enjoyed this article? Share it!