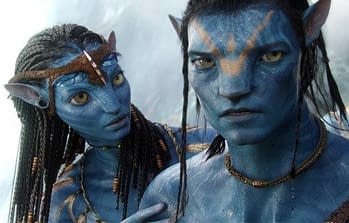 Despite Avatar's continued box office dominance, its cultural standing has diminished significantly. Where other major properties are buoyed by sequels, merchandise or animated spinoffs, Avatar disappeared into director James Cameron's meticulous planning for a trilogy of sequel films.
That planning may have caused another delay in the release of Avatar 2 as The Wrap reports the film will not be ready for a Christmas, 2017 release. Citing sources close to the situation, the site also reports that there is no revised release window planned or word about the subsequent films in the sequel trilogy. Distributor 20th Century Fox declined comment.
When last he spoke on the matter in December, Cameron said he was "just refining" the scripts. With some sets already under construction and effects work underway, the plan is to film all three films back-to-back.
As the first film is still the highest-grossing movie of all time — despite the best efforts of Star Wars: The Force Awakens — the sequels are inevitable, but not until Cameron is ready to release them.
Enjoyed this article? Share it!