It's pretty great to know that the cast of Avengers get along well enough to have matching tattoos. Seriously — that's a thing that happened.
Following in the rich tradition of casts marking themselves with some kind of memento of a film (like the Lord of the Rings fellowship getting the number 9 in Elvish, or the cast of Suicide Squad), five of the original six members of the Avengers squad share the same skin symbol.
"Five of the original six Avengers got a tattoo," Iron Man himself Robert Downey Jr. said to Entertainment Weekly.
"And the sixth was the tattoo artist, who gave it to five of us, the one who opted out being Mark Ruffalo. It was [Scarlett] Johansson's idea, and she and [Chris] Evans did it in New York. Then, their New York guy, Josh Lord, who is amazing, flew out to LA, he did me, did [Jeremy] Renner, and then we just bullied [Chris] Hemsworth into doing it, and he got it.

And each one of us drew a line on the artist with his own tattoo gun and it was a total massacre. Each of us contributed to giving the tattoo artist the sixth tattoo that he designed for us. By the way, he's got another one on him that Scarlett did, which is beautiful, which is crazy, because the line she drew on him, which was just supposed to be a straight line, looked like a lightning bolt. It was a mess."
In two photos from Susan Downey (RDJr.'s wife), you can see the clever and stylish symbol.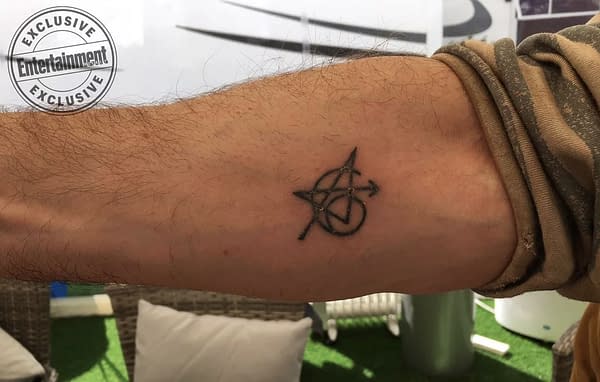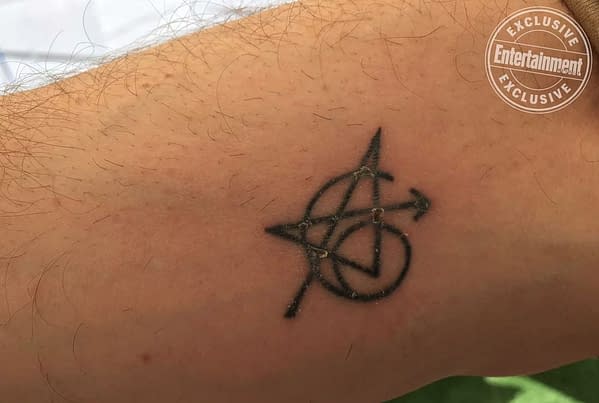 RDJr. posted this video to his Instagram account, showing some of the tattooin' action during the session:
No word yet on what kind of aftercare everyone is using. Avengers: Infinity War is currently in theaters now.
Enjoyed this article? Share it!