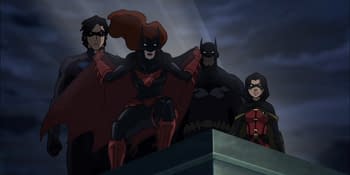 In Batman: Bad Blood, Bruce Wayne is apparently killed when a warehouse explodes and to keep order in Gotham, Dick Grayson finds he must take over the cowl. But he's not alone as Damian Wayne returns to town and Batwoman gets involved in the search for the missing Batman.
For Jason O'Mara, Batman: Bad Blood represents his fifth time voicing the Dark Knight. While talking with Bleeding Cool at the west coast premiere of the film last night, he said that he finally feels at home in the role.
"It's an honor and privilege to play this role," he said. "And the scripts keep getting more sophisticated and intricate with the notion of the Bat Family. And now that we've established the individual characters, we can explore their relationships." Though he noted some were skeptical about the storyline Son of Batman, he found the audience has come to embrace the Bat Family story in the films.
"This is the first time I showed up for work and was pretty sure I wasn't going to be fired," joked Sean Maher, who has played Dick Grayson and Nightwing since Son of Batman. "There was a sense of ease for me, but script was also so rich with action and emotion. I had the most fun on the series [with this one] because I felt I was finally getting this character."
Also returning for a third time is Stuart Allan as Damian. Asked about the younger Wayne's progression from Son of Batman to Bad Blood, he said, "He's still conflicted in methods. He's still tied to Ra's Al Ghul and the League of Assassins, but that's very different from Batman's perspective. As he hangs out with Batman more and more, he's realizing justice is a good thing." The actor added that that Damian is still short and sarcastic with the other members of the Bat Family.
The character progression from film to film and the increasingly serialized aspects of the DC Animated Original movie is an aspect of the direct-to-video range that supervising producer James Tucker added after he took over from Bruce Timm. The original directive was for each film to exist as a standalone project, but after a number of years, Warner Home Video eventually said they were interested "in building [a universe] and we hadn't built something like that since Justice League Unlimited."
He also noted that the films prior to Justice League: The Flashpoint Paradox adapted some of the great comic book stories, with the two-part The Dark Knight Returns already in the planning stages at the time. "So we used the New 52 as a starting point, but the mandate wasn't to do specific stories, so we used them to jumpstart ideas," he explained. Bad Blood is itself loosely adapted from some of the storylines in Batman Incorporated and the Grant Morrison run on Batman and Robin.
Also coming from that series is Batwing — or at least the Luke Fox version. Gaius Charles, a big fan of Batman Beyond, researched both versions of the character and was "happy to help create a character that will hopefully be embraced by the audience." He was also happy to learn the producers intended for his Batwing to be using a 1.0 version of the tech seen on Batman Beyond.
Batwoman also makes her animated debut, voiced by Chuck's Yvonne Strahovski. The actress said she was surprised by the amount of pressure involved in the character's first appearance, saying, "There's a lot of expectations on this." She was happy to see the character is multilayered with time in the script spend on her true identity, her relationship to her father and a possible romance with a certain Gotham PD detective.
The character also receives a number of one liners, which appealed to Strahovski. "It's silly when you're doing it by yourself [in the recording both]," she said. "But it works when it's all put together." She also said she looks forward to coming back should the character return in subsequent films.
For director Jay Oliva, each Batman film is another chance to refine the personal styles of each character. "With this movie, I was dealing with Nightwing in a much bigger part. I wanted to figure out how his style translates into him pretending to be Batman," he explained. He also noted the characters all have subtle differences in their choreography, but the biggest contrast is with Batwoman, a character not trained by the Dark Knight. Her style fits the military exposure and training she received. "We try to do that will all the characters and find a way they feel different from each other, but are integral to the story," he added.
According to Tucker, the plan going forward is to continue to make one or two films a year, depending on the schedule, as part of the emerging continuity. One film per year will continue to be a standalone project, like last year's Justice League: Gods & Monsters.
Batman: Bad Blood is available now.
Enjoyed this article? Share it!