One of our favorite parts of a Star Wars Celebration being right around the corner is the amount of incredible artwork that'll be available at the event. Like this beautiful and heartbreaking piece from Karen Hallion of Luke Skywalker kissing General Leia's head from the Star Wars: The Last Jedi scene.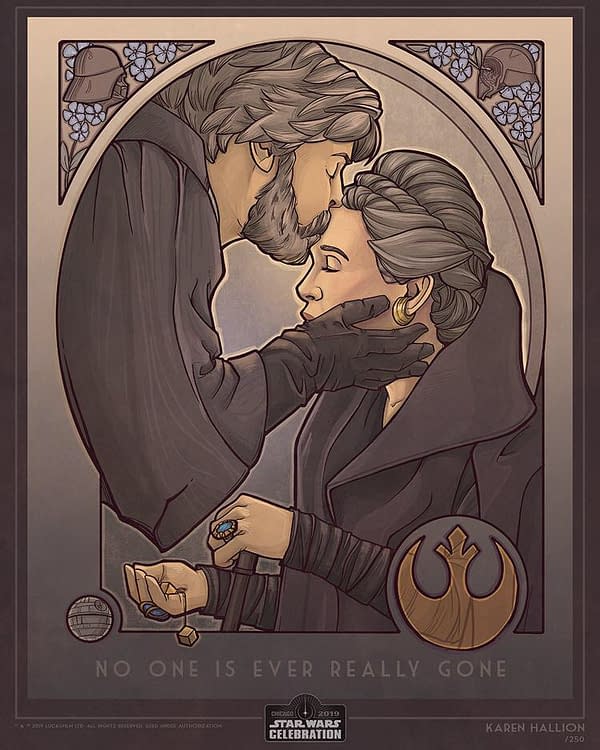 The piece will be available for purchase during SWCC (Star Wars Celebration Chicago), and can be pre-ordered here.
And, as it turns out, it's someone named Mark Hamill's favorite moment from Star Wars: The Last Jedi, as the actor revealed on Twitter.
This is my illustration for @SW_Celebration 2019. As a long time Star Wars fan, seeing these two together again was just incredible. And, after Carrie died, I felt like @HamillHimself was saying goodbye to her for all of us here, although she will not ever really be gone. <3 pic.twitter.com/TcVQisuGsw

— Karen Hallion (@Khallion) February 25, 2019
Thanks @Khallion for this beautiful interpretation of my favorite moment in the film!

— Mark Hamill (@HamillHimself) February 25, 2019
We're not crying, its just raining. Inside. On our face.
Star Wars Celebration Chicago will take place April 11th-15th 2019 at McCormick Place, and you can read more about the expected/announced guests here.
Enjoyed this article? Share it!