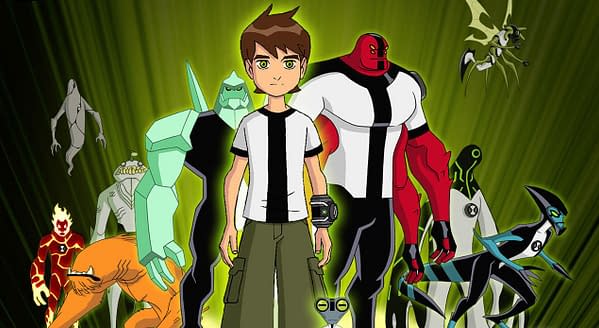 Alex Winter, co-director of Freaked and co-star of the Bill and Ted pictures, has already adapted Man of Action's Ben 10 cartoon into live action for a pair of TV movies.* Nonetheless, Joel Silver is now planning to take the story all the way to the multiplex.
If you don't know the original TV show, the premise is simple. A young chap gets a hold of a watch that enables him to transform into alien creatures. His name is Ben. There are ten alien transformations
available to him. There.
Now, according to The Hollywood Reporter, Silver Pictures have hired Ryan Engle to re-write their in-development film version. He made the Black List with his sci-fi war movie On a Clear Day and was later tapped to adapt the Rampage video game into a screenplay.
Yep – the one with the giant monsters jumping into skyscrapers and punching them up. I wonder what's happening with that project? I'd at least love to read Engle's script and see what the heck he structured
it around.
*There have apparently been five TV movies in total but I personally only bothered with the Alex Winter ones. Because of Freaked and his show Idiot Box. This is also why I'm going to watch his Napster documentary
Enjoyed this article? Share it!