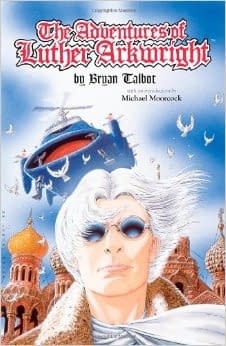 Back in the mid-2000s, the movie rights to Bryan Talbot's exquisite comics series The Adventures of Luther Arkwright sat with Chris Bender and JC Spink at Benderspink. As you may have noticed, nothing came to pass.
More recently, Ridley Scott and Scott Free tried to mount an adaptation for TV, using Game of Thrones as part of their pitch. This too didn't pan out, the rights lapsed and eventually, Benderspink picked up the option again.
But not for long. They seem to have struck a short, high pressure agreement to look for funding in just one calendar quarter. A couple of months or more have already passed.
The first I heard of this was when a big-mouthed friend from LA passed along some buzz he'd picked up around the office. According to him, Benderspink were actually trailing some heat this time and while "bidding war" would be severely overstating the case, things were looking good. The bait was drawing in a lot of sniffs.
We later checked the details out with a few other sources and, yes, it's all happening for Arkwright at Benderspink right now.
But the clock is ticking. We don't know if it's going to all come together in time, though it does seem like the producers do have a very real shot on goal and, right now, this very week, financiers and studios are being asked to consider the project seriously.
So we might be just days way from an article about a Luther Arkwright movie in the trades. We've certainly got our fingers crossed. It could be brilliant – and it'd certainly do the original book's profile no end of good.
Enjoyed this article? Share it!