Mars Needs Moms has proven to be a rather notable box office failure. It's all but played out in US cinemas now with a take of under $17 million, against a reported budget of over $150 million.
If you don't know, the film was based, somewhat loosely, on a children's picture book by Berkeley Breathed. A rather nice book, in fact. I haven't seen the film, but I'd hope it contains at least some of the original's charm.
Breathed has now formulated a response to the film's failure for the current print issue of The Hollywood Reporter. As well as addressing the flop via Q&A – which I haven't read, being in the UK and not able to get a print THR too easily, though I am looking forward to seeing it keenly – Breathed also offered up a new cartoon.
This pic shows several aliens in the style of his book, reacting to a poster for the film that shows a somewhat redesigned martian. How do you read this? Is Breathed letting us know that he's not happy with the movie adaptation?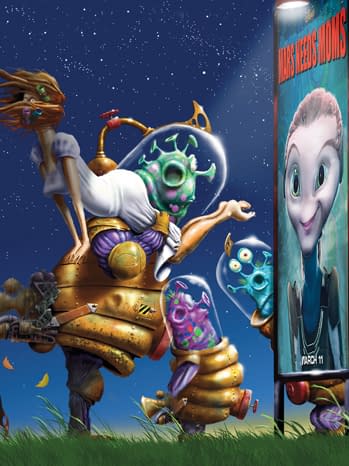 Enjoyed this article? Share it!