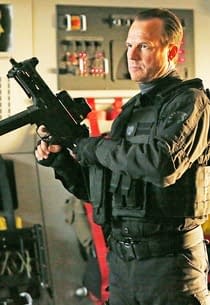 One month from now, Bill Paxton will be appearing in Agents of SHIELD for what TV Guide are calling an arc of "at least" four episodes. They're lucky to have him, I think. Paxton's great. Maybe he'll also do them a favour and direct an episode or two.
Here's how Jed Whedon has described the character:
We wanted to bring in a rough-and-tumble former cohort of Agent Coulson with a little bit of attitude and cigar-smoking swagger… when Garrett got his promotion to Level 7, he refused to sit behind a desk and doesn't like the formalities of SHIELD. He's going to help Coulson solve some mysteries and is not afraid to rig an explosive or two.
It's also promised that he'll be making a surprising type of entrance. But perhaps we care more about where he comes in than how he develops.
You'll put it together yourself if you're up to speed on the show, if you read Dan's theory on where everything might be leading, and know a little about Garrett's character in the comics.
Here are some clippings from a Marvel Wiki to illustrate this, potentially very spoilery, point.
John Garrett is a former SHIELD agent who was made into a cyborg to save his life…

Despite a history of repeated criminal offenses which included assault, battery, grand larceny, and four counts of statutory rape. John ended up becoming an agent of SHIELD, with his past records clandestinely expunged.

After receiving certain injuries in his line of duty, John was provided with a steel plate in his head that could house a recorder, as well as a cybernetic left hand… recovered by SHIELD and upgraded to a cybernetic body by ExTechOp.
Solving the Coulson mystery was by no means an end game, that's already obvious, and just a window onto something bigger. But will it be the "something bigger" that we're expecting?
Enjoyed this article? Share it!