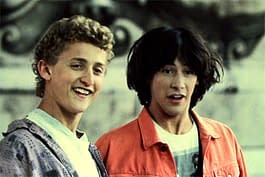 In the last couple of weeks, news of a third Bill & Ted adventure got the internet buzzing as various sites reported a script was in hand and ready to go with both Alex Winter and Keanu Reeves returning as society-changing rock heroes Bill S. Preston Esq. and "Ted" Theodore Logan.
It all began when Winter talked to Forbes about his Kickstarter-funded documentary about Frank Zappa. Winter told the site, "We have a script, we have a director, we have a studio – we're just trying to nail down a start date." With a comment that sounded like the film was not just inevitable, but awaiting a final go, fans got excited.
But as recently as Monday, the news mutated into a rumor suggesting the film would be UK-centric with The Sun (via Metro) claiming, "They'll time-travel through London and meet historical figures, meaning the Queen and Winston Churchill could get cameos."
Winter addressed the rumor on Twitter a short time ago dispelling the UK focus and seemingly backing away from the notion that all the production needs is a start date.
To clarify the false/misleading Bill&Ted news: Yes we're still working on it, no we don't have a greenlight & doesn't take place in the UK.

— Alex Winter (@alxwinter) April 20, 2016
If nothing else, it proves people are ready to see Bill & Ted face the later years of their lives and the society they created in San Dimas, California all those years ago. While it may not happen as soon as anyone might like, the fans will eventually have cause to shout "Station!" once more.
Enjoyed this article? Share it!