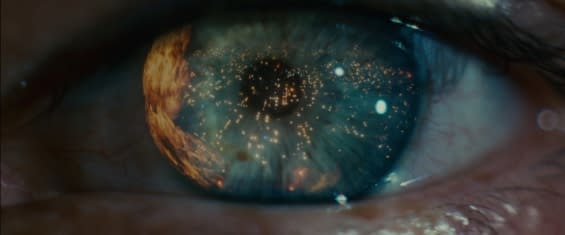 Right now, the contract is being cemented and soon, Alcon Entertainment will have acquired the rights to produce spin-off movies to Ridley Scott's Blade Runner. After several empty threats, it looks like Blade Runner sequels and prequels really could be coming soon.
Alcon are a finance and production outfit set up at Warner Bros. According to their press release, the rights they are purchasing "would be all-inclusive, but exclude rights to remake the original." On the other hand, they could make some pictures "based on situations introduced in the original film."
I'll include the full press release at the bottom of this post.
Now, there's bound to be some upset over this. Just like there was upset when the director of Piranha II was tapped to make a sequel to Scott's Alien, say.* Myself, I'm adopting the same wait-and-see I always do. I'll make my snap, prejudicial judgments when I find out which directors and writers come on board the project, the poor pariahs.
LOS ANGELES, CA, MARCH 3, 2011—Warner Bros-based financing and production company Alcon Entertainment ("The Blind Side," "The Book of Eli") co-founders and co-Chief Executive Officers Broderick Johnson and Andrew Kosove, in the most significant property acquisition negotiations in the Company's 13-year history, are in final discussions to secure film, television and ancillary franchise rights to produce prequels and sequels to the iconic 1982 science-fiction thriller "Blade Runner."

Alcon is negotiating to secure the rights from producer-director Bud Yorkin, who will serve as producer on "Blade Runner" along with Kosove and Johnson. Cynthia Sikes Yorkin will co-produce. Frank Giustra and Tim Gamble, CEO's of Thunderbird Films, will serve as executive producers.

Alcon's franchise rights would be all-inclusive, but exclude rights to remake the original. The Company, however, may produce projects based on situations introduced in the original film. The project would be distributed domestically by Warner Bros. International rights are yet to be determined.

Johnson and Kosove stated: "We are honored and excited to be in business with Bud Yorkin. This is a major acquisition for our company, and a personal favorite film for both of us. We recognize the responsibility we have to do justice to the memory of the original with any prequel or sequel we produce. We have long-term goals for the franchise, and are exploring multi-platform concepts, not just limiting ourselves to one medium only."

Among its many distinctions, "Blade Runner" has been singled out as one of the greatest movies of all time by countless polls and media outlets, and overwhelmingly as the greatest science-fiction film of all time by a majority of genre publications.

Released by Warner Bros. almost 30 years ago, "Blade Runner" was adapted by Hampton Fancher and David Peoples from Philip K. Dick's novel "Do Androids Dream of Electric Sheep?" and directed by Ridley Scott following his landmark "Alien." The film was nominated for two Academy Awards (Best Visual Effects, and Best Art Direction).

"Blade Runner" was selected for preservation in the United States National Film Registry by the Library of Congress as being "culturally, historically, or aesthetically significant." The film was selected for preservation in the United States National Film Registry in 1993 and is frequently taught in university courses. In 2007, it was named the 2nd most visually influential film of all time by the Visual Effects Society.

Alcon's COO Scott Parish and head of business affairs David Fierson are negotiating on behalf of the Company.
*Yes, Cameron had also made The Terminator, but a lot of people saw his as a 50% strike rate and wouldn't have liked the odds.
Enjoyed this article? Share it!