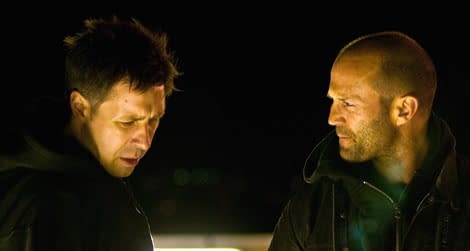 Here comes your first spritz of Blitz. This is our second trailer for a film based upon the works of Ken Bruen today*. I'm a bit jollier this time, though, as this comes from Nathan Parker, the screenwriter of Moon. Amongst the cast are Paddy Considine and David Morrissey and… um… The Stath.
The director is Elliot Lester, previously of Love is the Drug which I have not seen and cannot judge.
I think there's two distinctive things about this trailer: that the sound is really rather muddy, and that it's been given a 15 certificate. I guess that makes it NSFW.
Ending on a Facebook zinger? How 2010.
In the fast-moving follow-up to the White Trilogy, the south-east London police squad are suffering collective burnout: with tragic deaths, excessive habits, uncontrollable anger and the wrong kind of friendships, the team never had it so bad. When a serial killer takes his show on the road, things get progressively worse. Nicknamed 'The Blitz,' a vicious murderer is aiming for tabloid glory by killing cops. Harold Dunphy, Ace crime reporter, thinks he's on to the story of the decade, and the police have all the incentive they need to catch their criminal – before they get caught first!
*Compare the images at the head of the two Bruen posts…
Enjoyed this article? Share it!