Blue Beetle: First Concept Art and Capturing Latino Family Dynamics
DC FanDome continues to test how fast the writers at Bleeding Cool can get articles out. We knew that a Blue Beetle movie was on the way for a little while now. The film was first announced in November of 2018, but like many DC projects in early development, we didn't get a lot of information about it right off of the bat. In fact, we didn't hear much of anything until February of this year when it was announced that Angel Manuel Soto signed on to direct and that production on the movie was going to begin in early 2022. From there, we knew that things were going to move a little faster. In June, we finally got our first major casting announcement as Xolo Maridueña was first rumored to be in talks for the role of Jaime Reyes, and his casting was later confirmed in August of this year. We haven't heard that much since, but we did get a short panel during DC FanDome about the movie and a look at some concept art.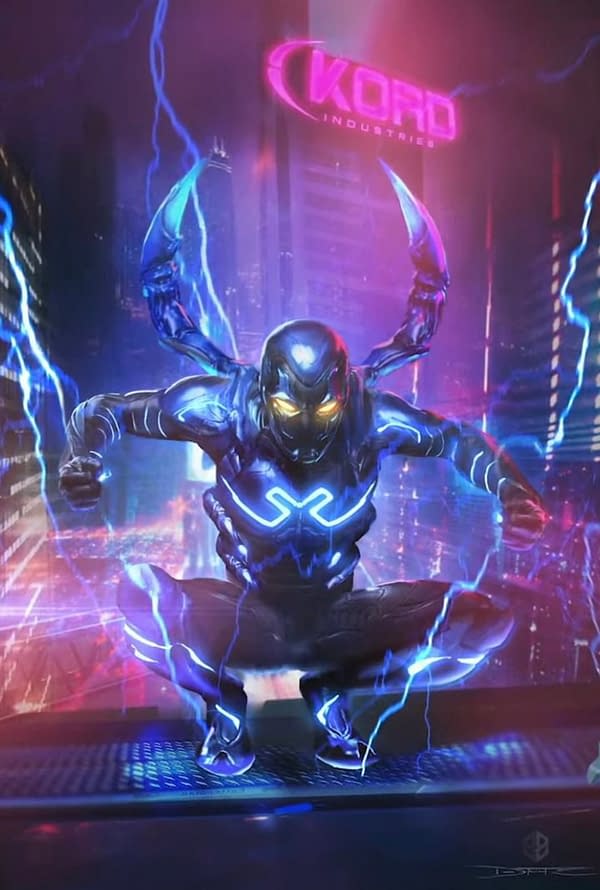 The panel has Soto along with his screenwriter Gareth Dunnet-Alcocer and Maridueña. Dunnet-Alcocer said Blue Beetle is "going to be fun, it's going to funny, it's going to be crazy, but it also has feelings, and it's all those things like Latin American people are all those things. And the movie reflects that." "With each superhero movie, you have to one-up each other. I know for a fact that any of the other superheroes out there who think they have the best superhero suit, I'm calling you out for a rap battle. We've got the best suit over here at Blue Beetle, and I haven't even seen it!" Maridueña said of the Blue Beetle suit.
"Blue Beetle is a deeply American character. … Jaime gets to be a reflection of somebody who's been around us forever – a Mexican American kid who wants to be a part of this world, who wants to have a piece of this world, who wants to be able to thrive in this world and a lot of people like him find himself hitting the same obstacles that a lot of us face," Dunnet-Alcocer explained of the impact that the character could have going forward.
"his film opens the door for the new generation of what the Blue Beetle can become at the hands of Jaime. It is everything that makes us who we are; one of the things Gareth did beautifully is capture the Latino family at its core. And how we see them not as someone tell us or has seen us from a third-person perspective," Soto said. "And for once, we're able to see a hero that comes from a family with a similar economic background to the ones that we came up in. And it stands for, and it represents a majority of the people that are coming from the bottom." Finally, Dunnet-Alcocer talked about the closeness of family that Jaime will have and that when Peter Parker is bit by a spider, his first instinct is to hide it. "Well, if you're from a Mexican family, good luck hiding anything from anybody." We don't have a specific release date for Blue Beetle yet, but it will be on HBO Max as part of their 2022-2023 slate.