A week or so ago, images of Steve Rogers and Natasha Romanoff sharing a Captain America kiss popped up online. Seems like Rogers will be moving on from Peggy Carter in the new film. Look.
Except… a new image shows Hayley Atwell on the film's set shooting a scene as Peggy, set in the modern day. Awkward love triangle ahoy? Well, my bet is that Steve moves on and then finds Peggy alive and well. That's much more dramatic.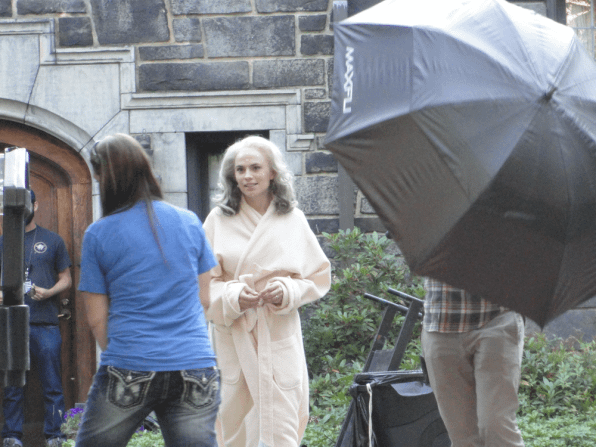 Cleveland Heights Patch report that the location was:
a nursing home where Cap, played by Chris Evans, is visiting with his fellow World War II veterans.

Also on scene was actress Hayley Atwell, who played Captain America's love interest in the first film and was dressed as an elderly woman.
As you can see in the image, Atwell has CG marker dots on her face, the better to digitally age her appearance.
Before Captain America 2 went into production there was a lot of fuss about casting the film's female lead. Now it's in production… we've seen nothing of this character. Did they swap some other role out and just use Black Widow instead? That's certainly how it looks to me.
Thanks to The Plain Dealer and CBM for pieces of the puzzle.
Enjoyed this article? Share it!