Carey Mulligan Says No – We Need A New Hillary Clinton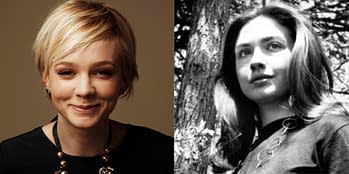 Rebecca Lewis writes for Bleeding Cool.
Just a week after producers on James Ponsoldt's indie project Rodham confirmed that the role of Hillary Clinton, nee Rodham, was Carey Mulligan's to turn down, it would appear that Mulligan has indeed exercised that option and rejected the role. The British actress would have never been my top pick for the part of one of America's most divisive political figures.
Though Brendon was pretty confident that Mulligan would say yes, The Hollywood Reporter cite insiders as saying that Mulligan was not prepared to commit to the role "at this time."
The film's producers are hoping for a 2016 release date to coincide with the presidential election so it could be several years of production and promotion for whichever actress signs up.
Young II Kim's Black List script for Rodham follows the early life of Hillary Clinton, who in the mid 1970s was juggling the demands of a law career in Washington DC and romance with the charismatic and ambitious politician, Bill Clinton.
So the role is once again up for grabs. And even when it's filled, the process can start all over again as we argue over who should take up the role of Bill.