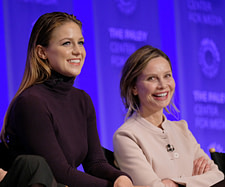 While executive producers Greg Berlanti and Ali Adler could not reveal whether or not Supergirl has actually been renewed for a second season, they — and the cast, who all appeared at the 33rd Annual PaleyFest on Sunday — echoed the thoughts of Warner Bros. Television Group president Peter Roth: "optimistic."
"I think we're excited to tell as many stories as the seventy-five years of DC cannon will afford us to," added Adler.
Looking back on the year since the group first came together to shoot the pilot, Adler said she knew the series would work from the first table read. "We really clicked," she said. "We've been so supported by CBS and Warner TV. It sounds so trite, but it [immediately] felt like family."
The past year also meant a season of flying rigs for star Melissa Benoist. "It never gets easier," she said. Not wanting to reveal all the secrets involved in making a person fly, she added, "There's always something that surprises me. We're always trying to make it a little more graceful."
Some of the other castmembers also looked back at where their characters started and where they are now. "For Winn, it's seeing his growth," said Jeremy Jordan. "When we meet him, he's timid, shy and not really confident." Initially harboring a secret crush on Kara and carrying the weight of his criminal father, the character has seen his secrets come to light in recent episodes and the character has evolved through his trials. "Throughout the season, he's come to life," Jordan explained. "He's been able to put the past behind him and discover how much he has to give. It's cool to see him grow up."
For David Harewood, the evolution from Hank Henshaw to J'onn J'onzz offered him a rich character breaking from an intense isolation. "He's lost his family. He's lost his people. He's lost his children," he explained. "And for him to discover friendship with Kara and Alex … becoming a father figure for these girls helps him rediscover the family he's lost."
One of the show's great surprises was Cat Grant. Seen in the pilot as snarky and cold, she has come to life in subsequent episodes. For actress Calista Flockhart, the nuance is key to the role. "Even though she adopts this persona and has this snarky behavior, she does that to keep her company afloat," she explained.
"By the way, everyone in her office is twenty-five and under and they're all supermodels," she quipped. "So, she's alone and she has nobody her own age — just a note to you, Greg and Ali."
Flockhart added that Cat's snarkiness around her very young employees is both to entertain herself and "make people a little afraid of her." Of course, it also allows her to effectively run CatCo.
But under that no-nonsense exterior, Flockhart thinks Cat cares about the city, humanity in general and Kara in particular. "She's mentoring Kara in her own way; it's subtle," she said. While the character may have seemed petty in the early parts of the season, Flockhart said, "she's too smart for that."
Asked if the show will introduce a LGBT character — or reveal an established character as LGBT — Berlanti attempted to say there are no immediate plans, but Jordan suggested, "Wynn should be gay." It became a running theme for the evening.
Still considering the question, Berlanti said, "I think these shows work best when they reflect society and in success, you always want to keep adding to the characters and the cast and add people that [viewers] can watch the show and see a piece of themselves." He also said it is rewarding when "people see a piece of themselves in a character they wouldn't expect."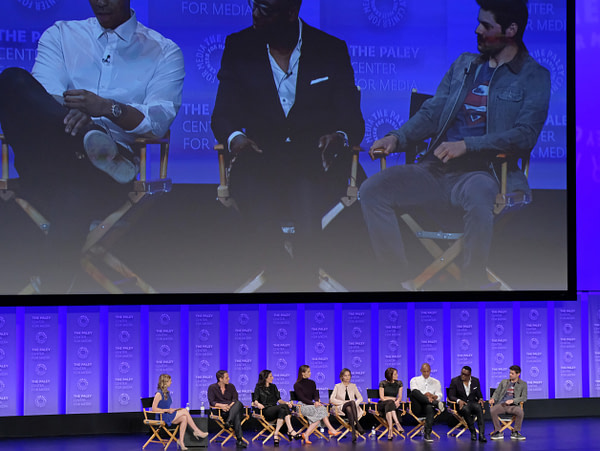 Turning back to Winn's stated affection for Kara, Benoist was asked if Kara has a mind to answer the show's light romantic triangle. "Kara is really confused about it. I don't think she's figured it out," the actress explained. "One of the most interesting things about this season is that she's constantly trying to figure out if she can have a normal life. I don't think she knows how to do that yet. [But] she will."
"With Winn," added Jordan. "Unless Winn's gay."
Taking a brief look at tonight's episode, Adler called Benoist's Red Kryptonite turn as a villain her favorite baddie of the year before adding that she also loved Laura Vandervoort's Indigo and Laura Benanti's recurring role as Astra.
The episode will see Kara's more wicked impulses come to the fore and after a season of playing nice, Benoist enjoyed the change in persona. "I wish it lasted for three episodes," she said.
"She wasn't very nice," added Chyler Leigh, who plays Kara's adoptive sister Alex Danvers. And though the episode puts their characters on opposing sides, she said her bond with Benoist was almost immediate. "Being in the business, you never really know what you're going to get. Meeting Melissa was probably the most powerful relationship I've ever felt from an artistic standpoint," she explained. "She is one of the most genuine people I have ever met."
Supergirl airs Mondays on CBS.