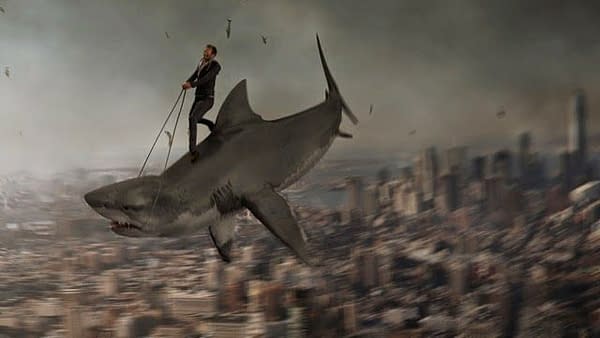 Rob Bradfield writes …
"If we don't get this [working], I will reenact this entire trailer for you like I do on set every day," said Anthony C. Ferrante. As the director of four Sharknado films in as many years, making do with technical flubs and/or brushing them aside in the name of keeping a tight schedule is second nature, instinct even, to Ferrante. This particular evening, the second night of San Diego Comic-Con: International 2016, there is a sync issue with the sizzle reel for his latest opus, Sharknado 4: The Fourth Awakens, which premieres tonight on Syfy.
The technical glitch continued for a few seconds more, so true to his word, Ferrante began acting out the teaser, running around and flailing his limbs, occasionally stopping to point at the sky and scream "SHARK!" He was joined by stars Ian Ziering (Finn Shepard) and Tara Reid (April Shepard).
Soon, the official version rolled and Ferrante – also the panel's moderator – brought out co-star Ryan Newman (who debuted in Sharknado 3: Oh Hell No! as their daughter, Claudia); new additions to the shark-slaying Shepard family Cody Linley (their oldest son, Matt), and Masiela Lusha (Finn's cousin, Gemini); and producer David Michael Latt.
"April's alive!" crowed one audience member.
"Yes, she is!" responded a joyful Reid. 'Nado devotees surely remember there was a vote after Sharknado 3: Oh Hell No on whether the April character should live or die. "Initially, when I read the script… I was like 'What if the fans hate me?" pondered the actress – a worry not without foundation. A stunt like that seldom ends well for the character in the crosshairs. To make matters worse, the voting window was seven months. That is a long time to spend wondering if your character was killed by a huge chunk of space debris, or just irrevocably maimed.
However, for a fan base that loves gore by the bucketful, the Sharknado fans mercifully took a pass on the chum in the water and now April lives to fight another day. The experience, according to Reid, brought her closer to her fans: "All these reports involved that came out through this, through Twitter… to keep friends, it's one of the amazing aspects."
While it's only been a year (in real time) since the last Sharknado film, The Fourth Awakens takes place five years after S3OHN and finds Finn living in Kansas, trying to put the apparent death of April behind him. According to Ziering, Finn is "right in the center of the country where there are no coastlines," concentrating on "raising his son, who is now five years old. He's rebuilding his life. He's rebuilding a house. He's living with his mom played by Cheryl Tiegs. That's where the shark hits the fan and from there the movie doesn't stop once."
Ferrante interjected, "The irony of all this is that Finn went to Tornado Alley to live."
"Yeah, but there's no water. What do they have? Trout-nados? Sturgeon-nados?"
"It's a Sharknado. It can get you anywhere."
Including Las Vegas, where the latest Sharknado forms.
The core cast doesn't so much rotate as it snowballs. From new recurring characters, to the now infamous celebrity cameos, Sharknado films are big on star-power. This time out, in addition to Lusha, Linley and Tiegs, Tommy Davidson joins the cast as tech genius and thrill-seeking madman, Aston Reynolds. He got rich building tornado busting Astro-Pods, which neutralized tornadoes, with and without sharks, for the last half decade. Though not, in Ferrante's words, "a mustache-twirling villain," Reynolds is a foil for Finn, having apparently solved the world's tornado problems, where Finn only saved a handful of cities.
Playing April's mad scientist father is none other than Gary Busey. For those paying attention to the lineage established in the films, that means that Tara Reid is the progeny of Gary Busey and Bo Derek… Anyway, as you might expect, Ferrante, Newman and Reid walked away from the experience with more than a few stories as well as a new appreciation of their craft.
Ferrante on their day with the sometimes mercurial Busey:
Gary does what Gary wants to do. Ryan was standing next to me and we were just watching Tara actually mediating between David Hasselhoff and Gary Busey. And them overthinking what a Sharknado is… how the spirit would work. I saw Gary didn't get it, and I said, "Gary improvise the whole scene." So he improvised twenty minutes of the most insane, ranting thing.
"His whole monologue ended with 'Now! Let's get barbecue!'" added Newman, who at one point Busey actually brought to tears.
Still, when it comes to being an action hero, Newman is no shrinking violet. When asked what weapon she would use against a Sharknado, she said, "A Shepard."
As much fun as the films are, producing three installments of an effects-driven story in the same time it took a major studio to do one is no small feat. Chapters one through three were produced and released in the same time it took to make Batman vs. Superman: Dawn of Justice. For newcomers Linley and Lusha, it occasionally meant doing their own stunts. Linley's baptism by fire, for example, included being suspended by his groin, pretending to be swept up in a Sharknado. Lusha did a swan dive – two actually – from the top of the Stratosphere in Las Vegas. Both actors' commitment to the film earned Reid's respect. "You have to get it," she said. "Otherwise you're not in it."
As one of the masterminds behind B-movie (and television) powerhouse The Asylum, David Latt is a bit of a mad scientist himself. The aptly-named production company is responsible for more inter-species hybrids than H.G. Wells and Forrest Ackerman put together. The films are shot on a shoestring budget and in a timeframe most big budget films would use for rehearsal. A far cry from the stereotypical Hollywood producer, Latt appears more comfortable praising the cast and crew than talking about his role in producing, not just the Sharknado series, but dozens of films and television programs, "As a producer… we just kind of almost sit back and watch you guys play in the funnest [sic] sets and stories we can possibly imagine," he said. "So, it's all these guys. Really."
Perhaps the biggest question on everyone's mind – it was asked three different times during Q & A – will there be a Sharknado 5? Latt's answer could be applied to several future Sharknado films: "As long as we continue making money on them, and people still want to do them, we'll keep making them."
Plus, with the cliffhanger in The Fourth Awakens, they almost have to.
Sharknado: The Fourth Awakens premieres tonight on Syfy.
Enjoyed this article? Share it!