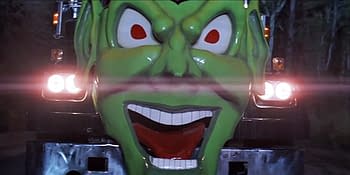 Slashfilm recently published a companion article to the How Did This Get Made podcast focusing on Stephen King's first and last directorial effort, Maximum Overdrive. While it's definitely a story about King, it's also a tale from the life of producer Dino De Laurentiis. The film was produced by De Laurentiis's eventual second wife Martha De Laurentiis (credited as Martha Schumacher in the film), and she says it got made for a simple reason :"It's because Stephen later said to Dino, 'I want to direct.' And Dino said to Stephen, 'Why not? You should.'
De Laurentiis had already set up a production facility in North Carolina — where Blue Velvet was shooting at the same time — and Dino assembled a crew to watch over both King and Martha, as the film became their formal training in steering a major motion picture. The North Carolina locale had a cozy atmosphere and allowed De Laurentiis to hire non-union people to his crews; a measure that kept the overall budgets of his films low.
Actress Laura Harrington recalled being an unlikely lead with star Emilio Estevez. King initially envisioned the character as something of an androgynous tomboy. De Laurentiis put the breaks on that. "He called me into his office and he looked at me and seemed very perplexed about early footage. And then he said, 'you're not wearing pants any more in this movie,'" she said. "And the next day, they put me in a short skirt and that was that."
While everyone noted King's eccentric, child-like behavior — which King now attributes to rampant cocaine use during production — Schumacher believes the film is very true to King's tone as a writer; a tone that may not have connected with audiences when the film was released in 1986. "The first scene in the movie is Stephen going to an ATM—an old-fashioned ATM machine—it eats his stuff and he's just being Stephen King Southern. That, to me, was really the tone of the movie," she explained. "Did we do the wrong tone? Maybe. But that's the sensibility that Stephen wanted to translate at that time of telling that story. And I think he delivered what he wanted to make."
I gave the film a rewatch at my bad movie club a few years back and, ultimately, the film's chief problem is that it's just slightly off in every conceivable way. The tone is definitely an issue as King essentially wants to tell a campfire ghost story, but never quite accomplishes the task.
The recounting of stories from the set, though, is quite entertaining as cast and crew braved inexperienced stunt driver, a hurricane and a runaway lawnmower that actually cost director of photography Armando Nannuzzi one of his eyes. Ultimately, though, the recollections of the cast and crew really give the sense that the film, despite its flaws, was made in a lighthearted atmosphere.
But I can never hear enough stories about Dino De Laurentiis, so now I want an oral history of Dune.
Enjoyed this article? Share it!