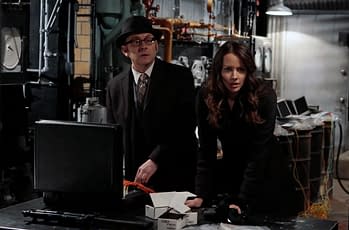 While the fourth season of Person of Interest ended on a pretty big cliffhanger, its place on the CBS schedule became equally perilous. And though it is still unclear if the fifth season will be the conspiracy thriller's final year, CBS has confirmed the fifth season will air starting May 3rd. UPDATE: It was also subsequently confirmed the season will be the series' last.
In an interesting — and ultimately revealing — turn of events, the network will air two episodes of the program weekly starting May 9th, according to The Hollywood Reporter.
The series, from creators Jonathan Nolan and Greg Plageman, revolves around an eccentric genius and his elaborate computer program. Intended to sniff out large-scale threats, the Machine could also predict people about to become the center of criminal activity. In more recent seasons, the Machine and the humans helping it have been under attack from rival groups and a sinister version of the predictive software with aims of its own. It was renewed for a shortened thirteen episode season last year, suggesting the program might be winding down.
As previously reported, executive producer J.J. Abrams doubted the show will continue past this current season.
UPDATE: Following the scheduling announcement, Nolan and Plageman provided a statement to IGN confirming the fifth season will be the last. "As life has come to imitate Person of Interest, it's been our great privilege to work on show for the past five seasons," they wrote. "We can't wait for you to experience this thrilling and final chapter."
Enjoyed this article? Share it!