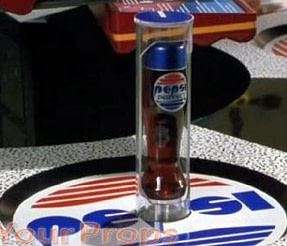 According to USA Today, PepsiCo will release limited edition "Pepsi Perfect" bottles in celebration of Back to the Future's 30th anniversary and the day Marty McFly traveled to the 21st Century. In fact, the bottles are scheduled for release on the very day featured in Back to the Future Part II: October 21st, 2015.
"Fans have always been a little crazy about it," PepsiCo's senior director of marketing Lou Arbetter told USA Today. "And so we wanted to take advantage of the fact that Marty traveled to the future, to this month, and wanted to actually come out with the product."
Only 6,500 bottles are scheduled to be made. They'll be available online via a process that Pepsi will announce closer to the 21st and cost $20.15. Inside, the soda will be Pepsi's regular formula mixed with real sugar instead of high fructose corn syrup. Perfect indeed.
A small supply will also be available for fans dressed as Marty at New York Comic-Con this coming weekend.