The long awaited second feature from Joe Lynch is just around the corner though if you catch the wind just right, you'll probably be able to smell the sweat and grue from here. Knights of Badassdom will be the "Sundance picture in a tentpole's skin" that sees a series of LARPers thrown into battle against a demon they have accidentally conjured up from an album cover.
The film's stars are Ryan Kwanten, Summer Glau, Steve Zahn and Peter Dinklage and… actually, let's just run through thosee again: Kwanten, Glau, Zahn and Dinklage. That's a whole lot of check marks on my wish list.
The film will be making an appearance at Comic-Con next week, where I look forward to finally seeing some of it in motion. For now, this still scanned from Entertainment Weekly just isn't enough, but it will have to do.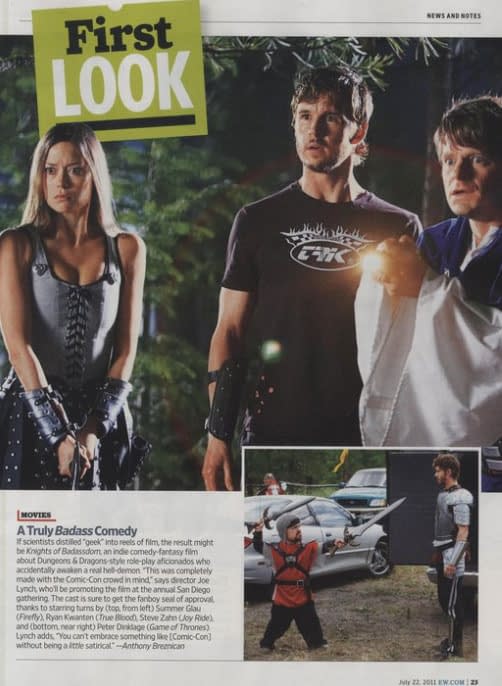 But that isn't the only picture at San Diego to be muckied up with Joe Lynch's paw prints. Showing in its entirety will be Chillerama, an anthology horror picture which teams Lynch with Adam Green, Tim Sullivan and Adam Rifkin. Each has directed a short horror picture in a different style, and paying homage to a different era of drive-in schlocker.
The stars of this poster are caricatures of the four directors.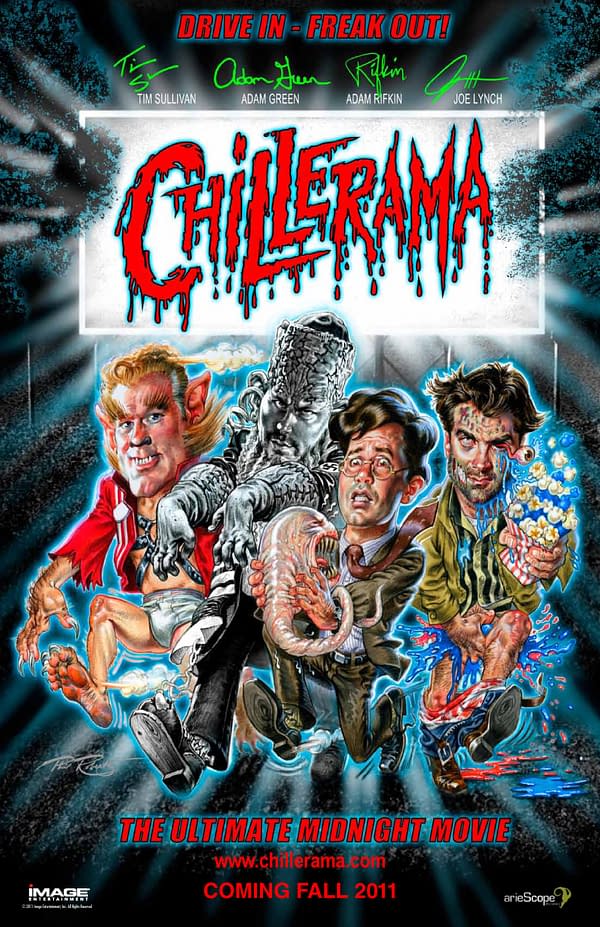 Each director is suffering from something associated with their own short picture. Scrutinise for teasing clues.
I saw a near-complete version of Adam Green's superb The Diary of Anne Frankenstein last year. I'm now itching to see the remaining three installments. Here's some press release info on the film's Comic-Con appearance:
Horror fans will have a chance to catch an exclusive first glimpse of Image Entertainment's highly anticipated horror anthology film CHILLERAMA during the world famous San Diego Comic Con 2011 with a special sneak preview of the film on Friday evening, July 22nd at the Gaslamp 15 Cinemas.

After the screening, stay for a Q&A with ALL FOUR DIRECTORS – Adam Green, Joe Lynch, Adam Rifkin and Tim Sullivan – moderated by DreadCentral.com's Steve "Uncle Creepy" Barton!

Produced by ArieScope Pictures and in the spirit of classic "omnibus" films like Dead of Night, Tales From the Crypt, Creepshow and Twilight Zone: The Movie, CHILLERAMA offers something for every bad taste. With titles like "Wadzilla," "I Was A Teenage Werebear," The Diary of Anne Frankenstein," and "Zom-B-Movie," CHILLERAMA features appearances by Joel David Moore (Avatar, Hatchet), Lin Shaye (Insidious), Ray Wise (X-Men: First Class), Kane Hodder (Hatchet and Hatchet II), Eric Roberts (The Dark Knight, Sharktopus) and more cameos than one can (body) count, CHILLERAMA is a festival of gore, guts, goofiness and good times.
Enjoyed this article? Share it!