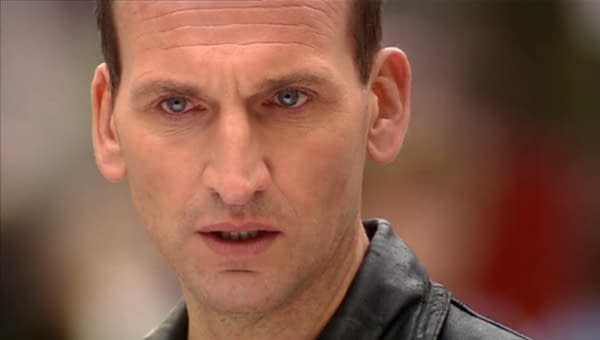 Like Tom Baker before him, actor Christopher Eccleston has a difficult time with Doctor Who and the odd afterlife which comes with it. He declined to appear in the fiftieth anniversary special, The Day of the Doctor, necessitating the creation of John Hurt's War Doctor. But in a new interview, Eccelston reveals he regrets leaving the series after one year.
According to Doctor Who Worldwide, Eccleston offered his comments on 774 ABC Melbourne's Drive program. In regard to his regrets for leaving, he said, "It was kind of tragic for me, that I didn't play him for longer. He's a beautiful character and I have a great deal of professional pride and had I done a second season, there would have been a marked improvement in my performance." He added that the show offered him a chance to learn light comedy, a skill he is not particularly known for.
The actor also further clarified his reasons for leaving so quickly. When asked previously, he talked about a clash of cultures and the terrible behavior of "upper management" toward members of the crew. In the Drive interview, he zeroed in on someone specific: the director of the first episode. "It's very important on a first series that you make a very informed and intelligent choice, even if it means breaking the budget," he explained. "About getting the first director who is going to set the tone for the season, for the way the actors relate and that did not happen. Disaster."
Though Eccleston does not name names, Keith Boak directed the first production block back in 2003. He is credited as the director of the first episode, Rose, and the new series' first two-parter, Aliens of London/World War III.
Even at the time, rumors emerged indicating that Eccleston was ready to walk away during that first recording block, with Boak as a principle reason for the actor's displeasure. Consequently, Boak was never asked to return to the show.
And it seems with the passage of time, Eccleston is more and more willing to talk about what was undoubtedly a difficult start for the series. Perhaps some day, he will be more willing to engage with the show — and perhaps appear in subsequent anniversary special — without that bitterness getting in the way.
Enjoyed this article? Share it!