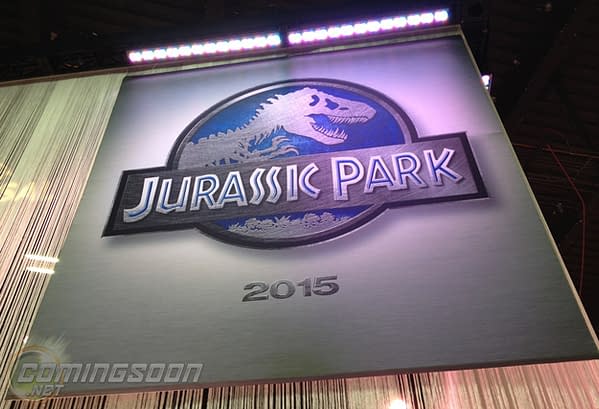 The hardcore dinophiles at the Jurassic Park Podcast probably can't believe their luck, this week having had Colin Trevorrow join them for a Q&A.
Trevorrow is currently working on the fourth instalment of the Jurassic Park series, and while he made it clear that he won't take any spoiler questions about the film, there was still a lot of new information in his answers.
For one thing, Trevorrow calls the film "two years out" which cements our expectations of a 2015 release date. It's going to be a crowded year for this kind of big movie, but Jurassic Park is one heck of a brand, and Trevorrow's a smart guy who could very well make a fantastic film, so I'm not too worried about its chances.
Also note that he regularly calls the film Jurassic Park 4, despite the initial promo posters for the film just calling it Jurassic Park – as you can see above. I'm sure the final title is a little ways away from being fixed, though my hunch is that they'll go for a subtitle. Subtitles are pretty much in right now.
Here are some other bullet points, and then the full podcast.
Trevorrow refused to answer "Would you like to get John Williams back making the music?" instead opting to say only "Do I love John Williams and all of his music? Of course."

Trevorrow says "It's important to make a movie for the fans but I also have to remember that there's a lot of people who just couldn't care less and need me to make a solid case for why the hell there's a

Jurassic Park 4

in the first place and I want to make a movie for them too."

"This is not a paycheck gig for me and it's not the movie that I'm making so I can make the movies that I really want to make. I actually want to make a kick-ass Jurassic Park movie."

"When I get to sit down with guys like John Rosengrant and adjust the talon length on a dinosaur and then we're looking at variations on skin colour, that never feels like work. That's when I feel like a kid."

"What is my favourite dinosaur? We have a new one that's pretty cool. I'm not going to tell you anything about it, but… it's pretty bad ass. I think Jack Horner said something about that too" – and indeed he did,

as previously discussed here at the site

.

"I feel like, obviously, everyone's favourite is the T-Rex and there's just something so iconic about that animal."

Trevorrow suggested that fans don't go looking for spoilers. He wants to cherish this time when no-one knows "what the hell we're doing."

One apparently key rumour-busting quote goes like this: "

I saw some of the rumours on the internet and I would have all kinds of red flags going off if I heard they were going to muzzle a T-Rex. So I would say don't believe everything you read, there are way more insiders on the internet than there are in real life."
[youtube]http://www.youtube.com/watch?v=j6vnBYPfJ5o[/youtube]
Sounds like Jurassic Park 4 will be along in 2015. I'm intrigued.
Enjoyed this article? Share it!