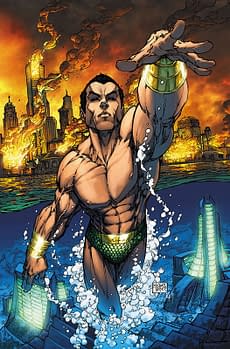 Right now, Universal Pictures still hold the rights to Namor, one of Marvel's prodigal stars. I know that many would like to see him return to the fold, and Daredevil lapsing at Fox proves that it could happen, but it's just as likely, if not more so, that Universal will get a film into production before their option is over.
So… are they revving it up now? Latino Review believe that they might just be, and indicate the possibility that it will be released on November 4th, 2016.
Legendary Pictures, who are now a funding and development partner with Universal, and definitely comic book lovers into the bargain, have set out that date for an as-yet untitled "event picture."
There's even some blind guesswork that there's a script for this film already and that it's been shown to Zac Efron. He does have the look, I suppose. Or at least the sideburns.
So… maybe Namor is coming soon, maybe he isn't. For now, there's not much to go on, but I do think it's all-but inevitable that Universal will give the big wet fella a movie sooner rather than later.
Enjoyed this article? Share it!