When Thunderbirds and Captain Scarlet creator Gerry Anderson very sadly passed away at the end of last year, he left behind a series of unfinished TV projects, proposed series that never got past the planning stages. This year, Anderson Entertainment, the production company that Gerry founded, and which is now run by his son Jamie, will attempt to finally realise one of these.
And while we don't know much about it, the show now has a name and a logo, courtesy of the company's website.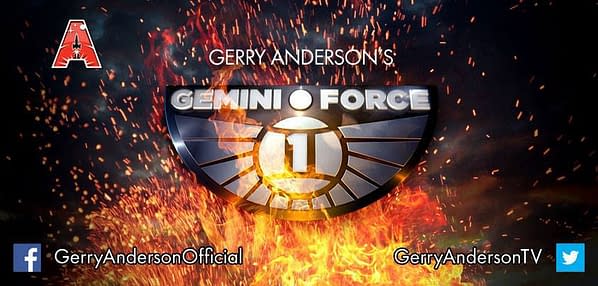 And with that logo there was a countdown clock, ticking away the hours until, if my maths is correct, 6pm in the evening of August 28th. That's UK time.
The title sits quite comfortably in an Anderson-ish place, with Gemini Force being very possibly a cousin to International Rescue, Spectrum or The Earth Defense Squadron. I wonder why Gemini, though? What will twinning or pairing have to do with this, if anything?
Maybe we'll learn no more until the countdown clock runs out, or perhaps there will be further teases along the way. I'll keep you posted, of course. And be prepared to maybe wait a lot longer than 40 days for your first look at this show in action – depending on what medium it is being produced in, Gemini Force 1 could be years from completion.
Also in the works is a new take on Thunderbirds, this time mixing Supermationation puppet work with CG and drawing on the talents of Weta. That's due to air on the CITV channel… oh, a couple of years or so from now.
We're in for some long waits with Anderson Entertainment, it seems. I hope they can make it worth the while…
Enjoyed this article? Share it!