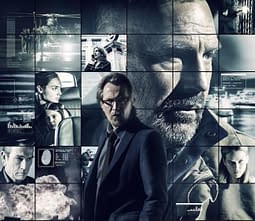 When Bleeding Cool caught up with Criminal director Ariel Vromen, several helicopters flew overhead, signaling the possibility of a police action. "In Los Angeles, there's nothing but helicopters," he said. "It's the main camera checking things out." It is a very different story from his film, in which the US Central Intelligence Agency makes use of London's extensive network of cameras.
As part of the reality he tried to build with Criminal, he noted the focus on surveillance was, in some ways, a response to the limited use of firearms by London police. "They had to come up with a new way to manage threats. They developed the cameras," he said. "There are cameras on every corner. Their system gets shots of subway tunnels and traffic lights." Interested in those methods, he mentioned a system to analyze body movement was integrated into the camera system shortly after they finished filming. "It can warn you if a person is walking on Oxford Street and his body language fits a specific profile."
But in the film, all that surveillance technology is used to locate Kevin Costner's Jericho Stewart, a remorseless killer who happens to be the perfect test subject to inject with the memories of Ryan Reynolds' deceased agent. The premise sounds like something out of a Philip K. Dick novel, but Vromen said the science for such a technology already exists. "We will be able to print [memories] like a new 3D printer; printing that new image onto the brain," he explained.
Utilizing that concept for the film, he said the hope of the CIA characters, led by Gary Oldman, is to obtain information from Reynolds' memories. But as an unintended consequence, "the image is actually his emotions." It leaves Jericho with emotions he has never experienced before and sets the film on its course. "I thought if you had that as the core," Vromen explained, "you can have the chases and gun fights."
That emotional core was only one element of making the spy-tinged thriller. The biggest challenge was "trying something fresh," as the director put it, and doing so with a limited budget. Like the surveillance technology, Vromen looked to real life examples to set apart some the action scenes in the film. "I know that as a shooter, you never shoot automatically. It's really a [movie] misconception," he said. He was reminded of news footage from the 2015 Charlie Hebdo shootings in France and the specific sound of gunfire during the attack. One shot followed by one or two and occasionally three. Then silence.
It was different from the constant sound of automatic gunfire heard in many action movies and Vromen resolved to use the real world sound of controlled bursts during Reynolds' action sequence. The punctuation was fresh and different and gave the scene an edge of the realism the director hoped to capture.
That realism extends to other action beats like staging real car crashes and a series of explosions later in the film. Vromen admitted going practical was as much a function of budget as an artistic choice, but also said those limitations helped the film. "What you get out of having to shoot for real is knowing what you have to shoot," he explained. Though he felt computer graphics can be an extraordinary tool, it can also leave a director with too many choices and performers lost in what the computers will fill in later. "When you do CG, you can imagine there's a road and trees and a car flipping and the actor asks 'what am I doing?'" he said.
And in the case of Criminal, managing actors with busy schedules meant an extra level of precision was required. "You have a different start point for everyone," Vromen said. "As a director, you have to understand how to rework your plans to shift for the actors or give up on certain things because you don't have the time. And you have to hope that when they're on your set, they can be in the moment even if they're in between other films."
With Costner and co-star Gal Gadot also having superhero obligations — along with Reynolds and comic book movie vets Oldman and Tommy Lee Jones appearing the film — Vromen joked that he never intended to make a "superhero criminal movie." Giving it further thought, he added "But in a world where everyone wants to be a superhero, Jericho is kind of a superhero."
A superhero willing to kill, of course, but Vromen said that is part of Costner's appeal in the film. He brings some of that Americana the actor embodied in films like Field of Dreams, but turns it into a monster groping to understand emotions. He added that young people who may not have seen the Costner classics may find a "sweet discovery" with Criminal. "What I hope is that this film is seen as a fresh way of looking at Costner. Hopefully, that will open new doors."
Criminal opens tomorrow.
Enjoyed this article? Share it!