D23 Roundup: 11 Highlights You Should Know About
Disney fans from all over the world have flocked to the Anaheim Convention Center to celebrate the House of Mouse and all its various properties during the official Disney Fan Club event, the D23 Expo. Several big announcements have come out of the convention — trailers, key art reveals, casting announcements — and you might not have been able to keep up with everything.
Here's a list of notable highlights you should probably be aware of if you are a fan of Star Wars, Marvel, Disney, and their various properties:
11.) Director Ava Duvernay showed the first trailer for her upcoming film adaptation of beloved childhood classic novel A Wrinkle In Time, which opens worldwide on March 9th, 2018.
10.) Jon Favreau showed a video of his The Lion King live-action adaptation, specifically, The Circle Of Life. Reports state there was applause to rival anything else during D23, but sadly, no video has been released to the public yet. The rumor of Hugh Jackman voicing the iconic villain Scar continues, fueled even further by this tweet from the actor:
PARTNERS. @Disneyland pic.twitter.com/dEuFwxfoqd

— Hugh Jackman (@RealHughJackman) July 15, 2017
9.) Emily Blunt introduced the first teaser trailer for the upcoming Mary Poppins Returns sequel to the original Disney classic. The responses were overwhelmingly positive for such a short video, but hopefully we'll be getting an actual trailer by the end of the summer.
8.) Epcot at Disney World in Orlando is getting a Guardians of the Galaxy ride. The GotG-themed rollercoaster will open in 2021 where Universe of Energy is currently located in Future World. There was also confirmation that yes, the Tron lightcycle ride from Shanghai Disney is coming to Orlando.
I can't tell you how excited I am about the @Guardians attraction coming to #Epcot! (Yes that's a photo of Peter Quill visiting as a child!) pic.twitter.com/ROY3BcJm45

— James Gunn (@JamesGunn) July 16, 2017
7.) The current slate of Disney film releases through 2019. Films still to be released in 2017 are Thor: Ragnarok, Pixar's Coco, and Star Wars: The Last Jedi. In 2018 we get Black Panther, A Wrinkle In Time, Avengers: Infinity War, the Star Wars Han Solo solo film that still doesn't have a title, Incredibles II, Ant-Man & The Wasp, Wreck It Ralph 2: Ralph Breaks The Internet, The Nutcracker And The Four Realms (which bumps the previously announced Mulan remake out of its spot), and Mary Poppins Returns. 2019 brings us Captain Marvel, Dumbo, an untitled Disneytoon animated film, Avengers 4, Toy Story 4, The Lion King, Frozen 2, the Mulan live-action remake, and Star Wars IX.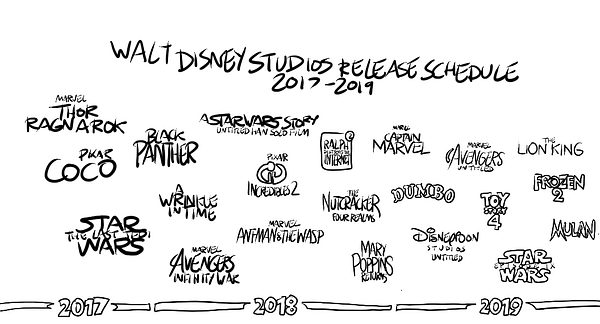 6.) The release of Star Wars: The Last Jedi character posters featuring the main cast in red wash. Of course, there was talk about the sudden loss of our Princess General Carrie Fisher.
5.) Casting announced for the upcoming live-action adaptation of Aladdin from director Guy Ritchie. This has been a much-awaited thing, as fears mounted regarding proper ethnic casting for these middle eastern inspired characters. In the title role of our favorite streetrat: Mena Massoud, born in Canada but of Egyptian descent, with not many big-time credits behind him. As the fierce Princess Jasmine, Naomi Scott, who audiences most recently saw as the Pink Ranger in Power Rangers. And in perhaps the most anticipated role, Will Smith as Genie, the role made famous by the late great Robin Williams. No word yet on when we'll see the film, though.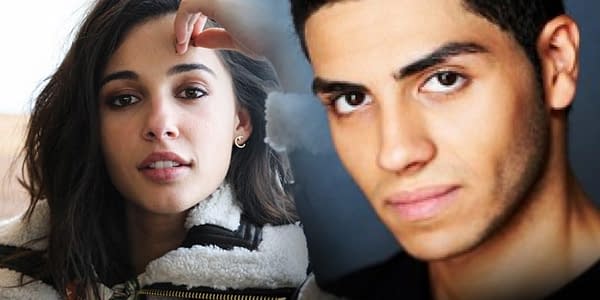 4.) Thanos and his Children at the Marvel Booth. As early as Thursday, we got glimpses of the large maquette of the Mad Titan hanging out at the Marvel booth inside the expo. Theoretically, this is what he'll look like for Avengers: Infinity War, and everything we've seen since proves that. There were also some mysterious figures draped in cloths flanking Thanos, and now we know what was under those wraps. Thanos's loyal lieutenant Corvus Glaive, warrior Proxima Midnight, spymaster Ebony Maw, and Black Dwarf were all revealed.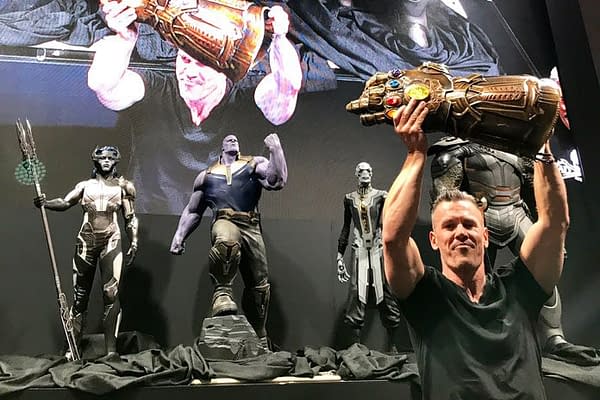 3.) Avengers: Infinity War. Sadly, we probably won't get to see the footage and trailer shown to fans at D23 until San Diego Comic-Con next week — or ever, because Marvel does like to cut trailers specifically for events for fans that never see the light of day. You can read the description of what was shown here, though. Infinity War has finished filming, and the cameras will start rolling shortly on Avengers: 4.
2.) Westwor—I mean, Star Wars Hotel for Disney World in Orlando. All the cast members will be in Star Wars-inspired costumes and character, each guest will get their own "storyline" (which Disney says will "touch every single minute of your day"), and the hotel is meant to be housed on a spaceship (hence the windows).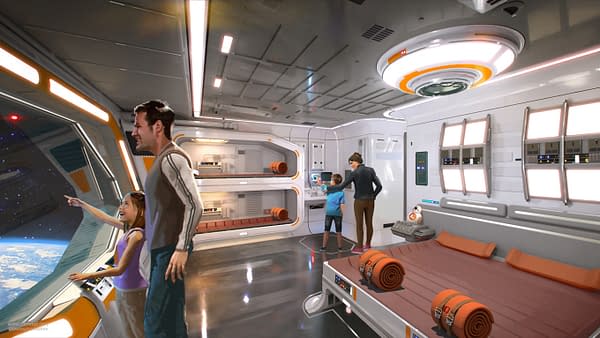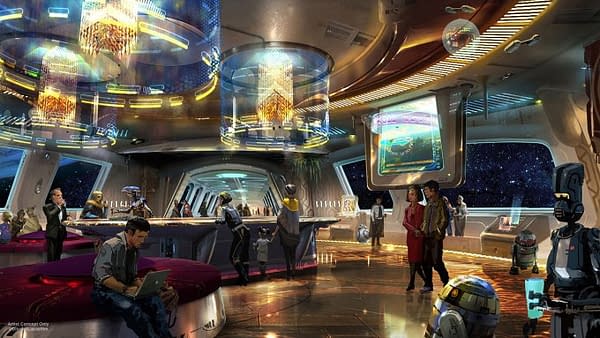 1.) Star Wars Land, which will officially be called Galaxy's Edge. We've known for a long time this was happening, and Disney pulled no stops unveiling their model of what the new addition to Disneyland is going to look like when it opens in 2019. There will be a life-sized Millennium Falcon, you guys. "You will be able to get an up-close look inside the ship that Princess Leia famously proclaimed a bucket of bolts," the official press release for the display read. Other notable things you should check out from the event are the toys and collectables (look for that roundup later today), the newest in Mouse chic fashion, a Kingdom Hearts III 2018 release update (with a Toy Story story trailer!), and the results of the ever popular D23 Mousequerade competition: