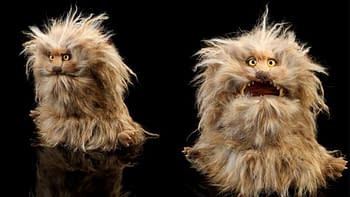 The Los Angeles Times reports one of the puppets used in Jim Henson's 1982 film The Dark Crystal is up for auction at the Prop Store event in London, England on September 23rd.
Fizzgig, a dog-rodent thing, followed main characters Jen and Kira on their journey to the castle of the Skesis to restore the crystal and bring sanity back to the land. He was portrayed in the film by Muppet veteran Dave Goelz. You might also know him as The Great Gonzo.
Like so many other children of the 80s, I was unprepared when this film began its rotation on cable. I remember knowing who Jim Henson was and expecting more of a Muppet experience than the dark fantasy. The people who provided Henson with the budget were also surprised and the film was not as successful as it might have been. It has since come to be considered a classic with The Jim Henson Company debating a sequel.
Other items up for sale during the auction include one of Leonard Nimoy's starfleet uniforms from Star Trek, a Dalek and Leeloo's multipass. Early online bidding is available at PropStore's website. If you have the spare cash laying about, they expect Fizzgig to fetch between $12,000-$15,000.
Enjoyed this article? Share it!