Ron Howard's film Splash doesn't get nearly enough love from the film world. It's such a gem of comedy, romance, and fairy tale that still holds up today. Seriously- do yourself a favor and pick up a copy, and watch the behind the scenes documentary.  It's brilliant, and will make you appreciate it even more.
Anyhow- today at Julien's Auctions Hollywood Legends in Las Vegas, Daryl Hannah's Madison hero tail sold for a mere $10,000 USD.  I say mere, because the detail on the damn thing is impressive.
Yes, she's had some work done, as detailed in the auction catelog listing, but the tail really looks fantastic.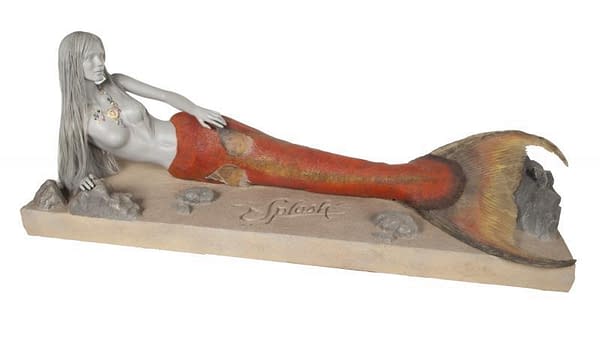 Comprising intricate layers of thin latex and hand-painted skins and gills, Hannah would have to spend up to eight hours in the make-up chair having it attached. Peeing was not usually an option.
SOLD for $10,000! An original mermaid's tail worn by #DarylHannah as Madison in #RonHoward's classic romantic comedy #Splash co-starring #TomHanks! Sold today in our "Hollywood Legends" #memorabilia #auction at @PHVegas and online at https://t.co/TiME89MqlX! pic.twitter.com/G9hU90Lm65

— Juliens Auctions (@JuliensAuctions) June 23, 2018
Enjoyed this article? Share it!