A few days ago a few media sources reported Dave Bautista's comments on the Disney/James Gunn/Guardians of the Galaxy Vol. 3 debacle, as made on The Jonathan Ross Show, which returned for a new series on ITV tonight but was clearly recorded a few days ago.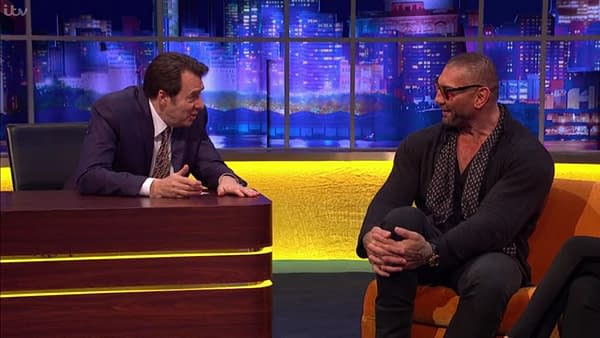 However, the version that aired tonight was a little cut down, focusing more on his new movie Final Score, which is basically Die Hard in West Ham football stadium. And it included a few pertinent points that weren't mentioned previously.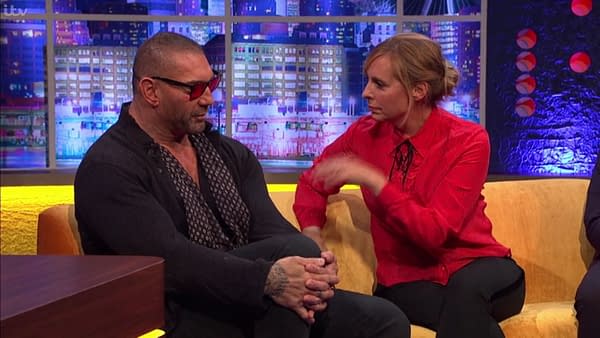 When Jonathan brought up the possibility Bautista would not reprise his role as Drax without James Gunn as director, he said:
'There's a bit of an issue, a bittersweet conversation, no its a bitter-bitter conversation, because I'm not really happy with what they've done with James Gunn. They're putting the movie off, it's on hold indefinitely and to be honest with you, I don't know if I want to work with Disney.'
He then got to be knocked down to the floor by British Bake Off's Mel Giodroyc, who also ripped his shirt in the process. It was that kind of show…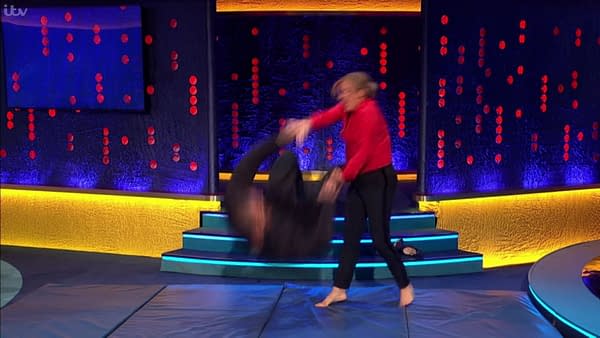 Here's a look at the trailer to Final Score.
Enjoyed this article? Share it!