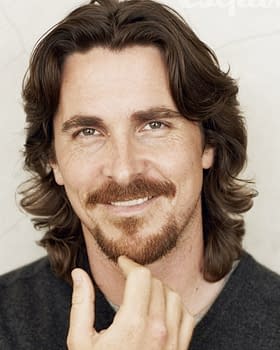 From one Batman to another. David Fincher has zeroed in on the ideal person to play Steve Jobs in the biopic he may be directing from Aaron Sorkin's script, and The Wrap reports it's Gone Girl star Ben Affleck's predecessor, Christian Bale.
Bale does resemble the late creator of Apple somewhat, and the trade reports Fincher is so dead set on getting his man that he won't direct the film unless Bale plays Jobs. And while there's been tension between Fincher and Sony from The Girl with the Dragon Tattoo (what kind of tension? I'm dying to know this too), studio head Amy Pascal still wants to keep Fincher happy so I'm guessing she'll do her best to make this happen.
But Bale has not been offered the role yet and is not thinking about going back to work at the moment, having just wrapped Ridley Scott's Exodus. So there's still a lot of moving parts on this project and neitehr Fincher nor Bale are close to being guaranteed to be on board. Personally, I'm still holding out for Corey Stoll over here.
Enjoyed this article? Share it!