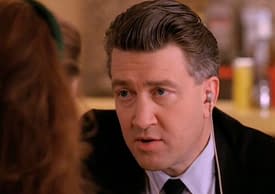 Twin Peaks continues to film its revival season and though Showtime has only officially confirmed actor Kyle MacLachlan as appearing in the series, Deadline hears word that co-creator David Lynch will reprise his role as Bureau Chief Gordon Cole, Dale Cooper's hard-of-hearing boss named after a line from Sunset Boulevard. Lynch appeared as Cole in several second season episodes — following a cameo appearance as a disembodied voice on a speakerphone in season — and the feature film Twin Peaks: Fire Walks With Me.
They also hear Naomi Watts and Tom Sizemore have joined the series in undisclosed roles, but as always, nothing is confirmed. Laura Dern, Jennifer Jason Leigh, Balthazar Getty and Amanda Seyfried are also said to be part of the new season, with original series actors Sherilyn Fenn, Miguel Ferrer, Richard Beymer, David Patrick Kelly and Sheryl Lee said to be returning.
Twin Peaks will make its return in 2017.
Enjoyed this article? Share it!