Redditors seem to be particularly good at sharing letters of note that they've either written or received, or have perhaps come to their family and friends. This sample of how DC respond to their fans was a particularly salient example to the concerns of this parish.
First, the letter from Spencer to DC. And now, from DC to Spencer.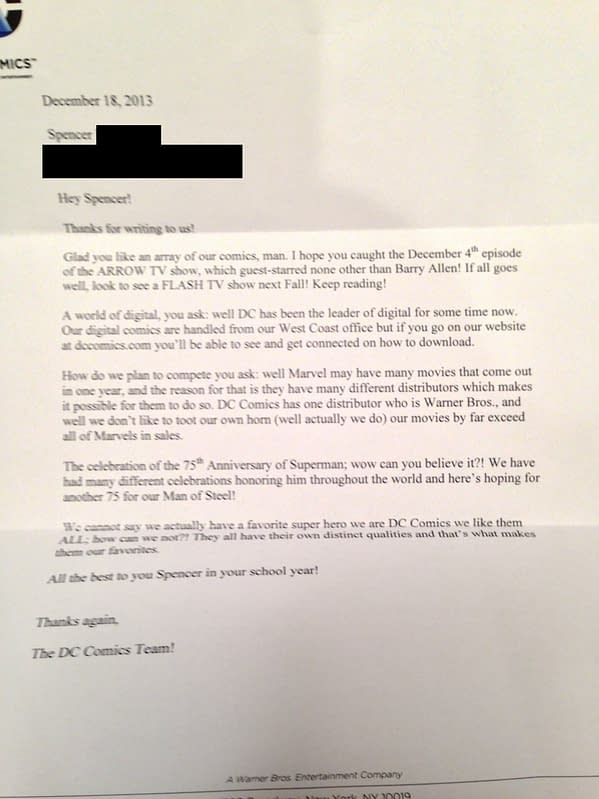 Now, I don't know if The DC Comics Team! were deliberately misreading Spencer's comments on Marvel movies or not, but let's suppose for a moment a world where Fox and Sony weren't releasing anything and just the Marvel Studios pictures were making it to the screen. That's still a world where Marvel "seemingly dominate," isn't it?
Comparing The Dark Knight in '08, Rises in '12 and Man of Steel in '13 to Iron Man in '08 through to Thor: The Dark World in '13 makes a pretty clear case that Marvel are not only making more movies, they're making more money and – arguably – their films are better.
The DC response that:
our movies by far exceed all of Marvels [sic] in sales
falls down as soon as you acknowledge that The Avengers is the highest grossing superhero movie of all time.
Maybe I should write them a letter myself and try to get some clarification. Something has obviously gotten a little confused here, and it's only fair to give them the right of reply after making these… gentle allegations.
I'll let you know how I get on.
Thanks to Mark for spotting the letter on Reddit and sending it over.
Enjoyed this article? Share it!