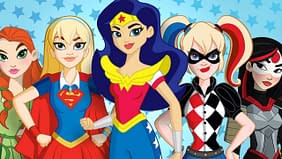 The DC Super Hero Girls will star in the upcoming Super Hero High, an animated special airing on Boomerang in March.
The plot centers on new transfer student Supergirl. When she crash lands into the cafeteria, it is clear that she has incredible power, but a lot to learn about being a hero. She meets Barbara Gordon and Wonder Woman, and as the trio get to know one another, a Junior Detective Club made up of The Flash, Bumblebee and Hawkgirl investigates a mysterious rash of security breaches centered around the teleportation Boom Tubes.
Featuring the voices of Anais Fairweather as Supergirl, Mae Margaret Whitman as Barbara Gordon and DC Comics universe mainstays like Greg Cipes, Tara Strong, Ashley Eckstein, John DiMaggio, Tom Kenny, Helen Slater and Dean Cain, Super Hero High airs March 19th on Boomerang.
Enjoyed this article? Share it!