The Deadpool Twitter account has unveiled the final bonus feature specs for the film's upcoming Blu-ray release, which includes deleted scenes and an optional audio commentary with director Tim Miller and Deadpool co-creator Rob Liefeld.
Star Ryan Reynolds also headlines a commentary track with writers Paul Wernick and Rhett Reese. So expect plenty of talking on this Blu-ray, which is fitting for Deadpool. In fact, it's a little surprising Deadpool himself isn't offering a yack track. Hmm …
Other features include a gag reel, galleries and something called "Deadpool's Fun Sack." Here's a handy flyer with the complete details: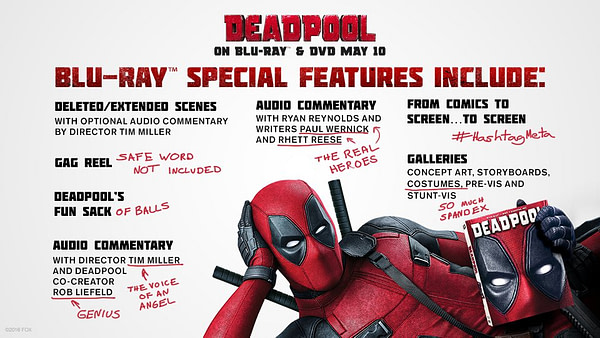 Deadpool comes to Blu-ray on May 10th.