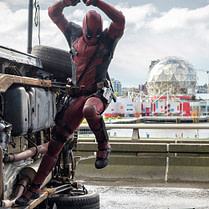 While the disc release of Deadpool comes out on May 10th, star Ryan Reynolds has announced he's coming early — pun intended — on digital platforms this coming Tuesday.
It is unclear if the digital release will including some or all of the previously announced special feature. As reported earlier this week, the Blu-ray will include a commentary track by Reynolds and writers writers Paul Wernick and Rhett Reese and a separate track with director Tim Miller and Deadpool co-creator Rob Liefeld among other bonus content.
Additional content is becoming more common on digital release platforms, as seen with the recent release of Star Wars: The Force Awakens, but has generally been a movie-only venue to bolster sales of physical media. But either way, Deadpool continues his endless media assault and will soon be easily accessed by the fans — which one imagines suits the Merc with a Mouth just fine.