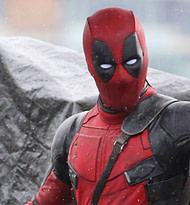 20th Century Fox surprised fans yesterday when special events in New York and Los Angeles promising "new footage" from next month's Deadpool turned out to be an unfinished cut of the entire film.
According to comicbook.com, star Ryan Reynolds turned up for the New York event while Deadpool co-creator Rob Liefeld, Stan Lee, director Tim Miller, actors TJ Miller and Brianna Hildebrand and screenwriters Rhett Rheese and Paul Wernick appeared in Los Angeles.
And those lucky enough to see the film are taking to Twitter to sing its praises:
LITERALLY BEST MARVEL MOVIE. I was lowkey hella doubtful but by far best executed movie i've seen in a long time.

— daddy (@MajinBuunny) January 19, 2016
Saw #deadpool tonight. This movie cannot be over-hyped! It's flawless. Pure @robertliefeld on screen. #TimMiller shows us how it's done. — Robert Kirkman (@RobertKirkman) January 19, 2016
Deadpool honestly exceeded all of the high expectations I had for the movie. I'm so happy. I'll definitely be seeing it again in February. — Nadeshot (@Nadeshot) January 19, 2016
#Deadpool was freaking amazing!!!!!! So damn hilarious, so dumb & probably one of my favorite movies!!!! @deadpoolmovie — Erick. (@ErickGSinatra) January 19, 2016
Oh man, I really, really loved #Deadpool! Funny, action packed, and just a blast. As a fan, I'm hugely impressed and happy! @deadpoolmovie

— Patrick Campbell (@pj_campbell) January 19, 2016
While the version of the film screened is not in its final form, the reaction has been wildly positive thus far. The completed version of Deadpool goes into general release on February 12th.