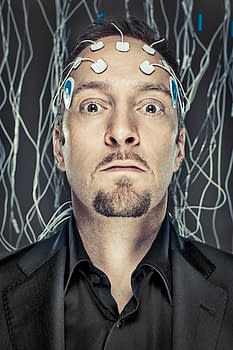 Watch any of Derren Brown's shows and you'll spot the odd movie in-joke or reference, from a brilliant bit of Vanilla Sky in The Heist to oodles of Donnie Darko in Hero at 30,000 Feet. I expect we'll be on for a few nods to The Manchurian Candidate in his new special, The Assassin – at least a pack of sinister playing cards, eh?
The premise of the show does sound somewhat similar to The Heist, at least in some respects. In that show Brown "primed" members of the public so that, when presented with the right set of stimuli and an apparent opportunity, they decided to try and rob an armoured car. They believed they were doing it under their own steam, and that they would get away with it.
This time, Brown will be trying to instill the desire to assassinate a celebrity figure. The identity of the celebrity has been kept under wraps so far.
So, drawing on the kind of "brainwashing" techniques regularly credited to the CIA, and seen in pictures like The Manchurian Candidate, Brown will be working on an individual, trying to get them to go through with an assassination. The Heist was amazing, thrilling stuff, full of suspense and genuinely jaw dropping moments, and this sounds like more of the same – and another blend of entertainment with a sharp agenda, just as we've come to expect from Brown.
The Assassin is to be one in a series of four new specials alongside a fake game show that plays around with mob mentality, another special about luck and… a fourth one they seem to be keeping secret for now. Brown himself has said:
Three of the four very much look at the darkest edges of human behaviour, and given that, I'm sure there'll be all manner of complaints. I, meanwhile, am rather fond of them.
The series starts on Friday October 21st at 9pm, on Channel 4, and I for one will be tuned in keenly.
Enjoyed this article? Share it!