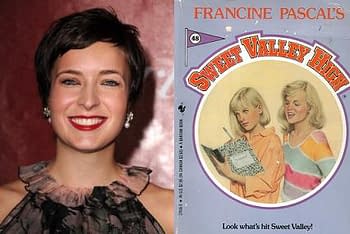 Rebecca Lewis writes for Bleeding Cool.
It seems there's a new adaptation or remake in the works every week in Hollywood, but this week's one is more appealing than most.
Diablo Cody, talented writer of Juno and Young Adult, has been talking about her mission to bring Jessica and Elizabeth Wakefield to the big screen.
It's been nearly thirty years since the first of Francine Pascal's Sweet Valley High books was released, and young girls the world over gained crushes, had their hearts broken, and fell out then made up with best friends, all alongside popular and smart California twins Elizabeth and Jessica Wakefield, and it was just over two years ago that Cody announced she would be penning the script.
Now, she finally brings news that the adaptation is "closer to reality than ever".
Out promoting her latest film Young Adult, Cody was asked about the upcoming SVH project – and even though she's not sure what can be officially said, she has confirmed that this might not be the Elizabeth and Jessica you remember reading about.
She told press at the Young Adult press conference:
We're hoping for the hard 'R' [rating]
suggesting that it's not going to be all slumber parties and gossiping.
Cody told The Playlist,
I want it to be to the '80s what American Graffiti was to the '60s. I want it to be looking back on a really cool time and enjoying yourself and I want it to be glamorous and colorful and bubblegum and a feast for the senses. That's my plan.
If anyone can pull off "glamorous and colorful and bubblegum" all at the same time, it would be Cody, and with over 150 books in the series – plus Sweet Valley Confidential, the sequel to the books which was released earlier this year and caught up with the twins aged 26 – there is plenty to work with, should the film be successful enough to spawn a sequel … or dare we say, a franchise?
Enjoyed this article? Share it!