Here's our first look at Jai Courtney with Bruce Willis. This comes from the screen test that won him the role of McClane Jr. for the upcoming A Good Day to Die Hard. Courtney is perhaps best known for his turn as Varro in Spartacus: Blood and Sand.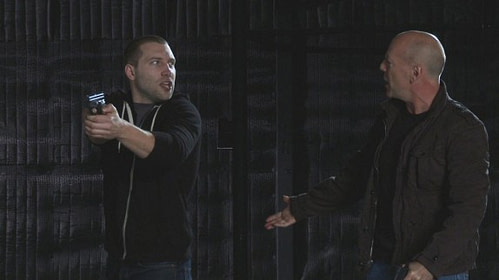 I don't suppose they could really give John McClane a son with flowing locks, could they? I bet there's a nice white vest under there somewhere, though.
Chances are, the image in some way represents a scene from the actual screenplay. You'll have to write your own dialogue, but if you come up with any crackers, do share.
With a script from Skip Wood, previously responsible for The A-Team and Swordfish, and directed by John Moore, perpetrator of Max Payne and the Omen do-over, I can't say that hopes run high for this one.
The film is set for release on Valentine's day, next year. Curious move.