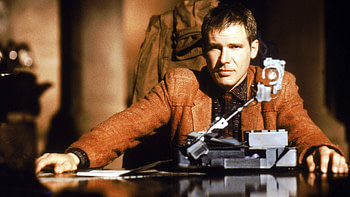 I've often said Blade Runner is the most fascinating movie I don't actually like. It's endlessly compelling from the standpoint of its production design, photography and the implications of the story, but the film itself is not particularly entertaining. Director Ridley Scott spent twenty years tinkering with it, proving story was not his main objective.
Nonetheless, it's a film worth looking back on.
Though opinions of the film vary, its overall importance to science fiction filmmaking is never in question. And that perception loomed over sequel director Denis Villeneuve when he told Collider about his hesitation when Scott offered him the helm of the long-in-development project. "I hesitated massively. It took me a lot of time to say yes. Not because I didn't believe in it, because I was like 'Who am I to dare to touch that?' And at the same there's a part of me that said, 'I'm a hardcore fan, I don't want to f*ck that up.'" He recalled growing up in Quebec and seeing the film for the first time, calling it a "a strong cinematic experience."
"It's a risk I know that every single fan who walks into the theater will walk in with a baseball bat," he continued. "I'm aware of that and I respect that, and it's okay with me because it's art. Art is risk, and I have to take risks. It's gonna be the biggest risk of my life but I'm okay with that."
Of the sequel's plot, Villenueve said, "The movie will be autonomous and at the same time there will be some link." Fairly ambiguous, but I suppose that the film will not directly explore the choices made at the end of the first film.