Directors We'd Like To See Finish The Han Solo Movie
Unless you've been living under a rock (or on Dagobah), chances are you know about the news Phil Lord and Chris Miller had been fired from the Star Wars Han Solo stand alone film. Speculation and rumors of course ran rampant, like a badly trained bantha across the sands of The Dune Sea. But of course now, the search for a director with Krennick like reflexes begins.
Deadline decided Ron Howard was at the front of the pack, but without any cement reasoning behind their theories. It stands to reason that maybe Lawrence Kasdan, screenwriter who's been with the Star Wars franchise since Empire Strikes Back, is in the best position to step in and finish the film, which has been in production since January and has a May 0f 2018 release date. Still.
We thought maybe a list of other directors who would be interesting in the cockpit for our favorite scruffy looking nerfhearder's film:
Jeremy's pick: Adam Goldberg. Why? Because he has great respect for the material, fantastic comedic timing, and the right amount of heart to add to the production. I think he can walk right onto the set and they wouldn't miss a beat.
Mark's pick: David Leitch. Why? Because John Wick + Deadpool = Han Solo.
Kaitlin's pick: Doug Liman. Why? Edge of Tomorrow had that situational comedy that makes Han Solo great.
Bill's pick: Quentin Tarantino. Why? I mean if we're going to step outside of the regular box, let's really step out of it. Then turn around, kick the crap out of it, pour gasoline on it, and light it on fire. His Han would always shoot first and ask questions later and I think it'd definitely leave us with a new definition of anti-hero.
Bill's 2nd pick: John McTiernan. Why? He's back out of prison, and has a brilliant heist and drama career of films including Hunt for Red October, Thomas Crown Affair, Predator, and Die Hard. He would take Han and put the smuggler into his prime. It would have occasional moments of levity, but generally it would be hard punching throughout.
Mab's pick: Stephen St. Leger. Why? Did you see Lockout with Guy Pierce? Because it was freaking fantastic, and had a wonderful mix of scifi violence and humor. Mostly it was in Guy's delivery of lines, but it was highly enjoyable. Also, Leger's been working on History's Vikings.
Mab's 2nd pick: Jeff Nichols. Why? Midnight Special was an enjoyable surprise, even though yes, it was really just another story in the Star Man arc. Maybe Nichols wouldn't be as soft and fluffy as Disney wants to go with a Star Wars stand alone, but promising.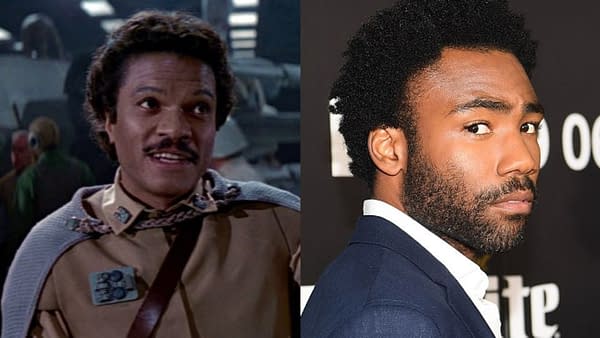 Maybe this means we'll get our Lando solo film, since Donald Glover is such a brilliant casting choice for the cape swishing smooth talker.
We wish everyone on the production the best of luck in their remaining shooting schedule, and speedy/cohesive editing for the post production. We'll keep you apprised on information as it becomes known.
Who do YOU want to see take over? Let us know in the comments.