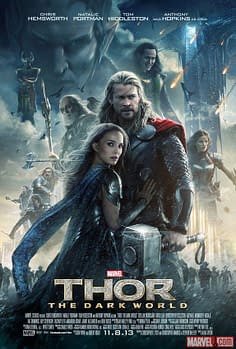 A new Thor attraction is coming to Disneyland in Anaheim, California later this year, to coincide with the release of Thor: The Dark World on November the 8th.
According to a post at the official Disney Parks Blog, that I was alerted to by THR, those that attend,
will be able to visit Asgard this fall and come face-to-face with the Mighty Avenger, Thor.
There aren't any details regarding what that will actually entail. My hope is that part of it will involve riding a horse down a rainbow bridge, where you'll then be greeted by Idris Elba in gold armour. He'll then transport you to a world where you will battle frost giants with a magical hammer. That's pretty unlikely though I'm guessing. A bit difficult to pull off.
Much like the recent Iron Man exhibition there will almost certainly be an interactive element though. Just maybe not quite as elaborate as the one I've suggested above.
Disney will be releasing more details regarding the exhibit next month.
Enjoyed this article? Share it!